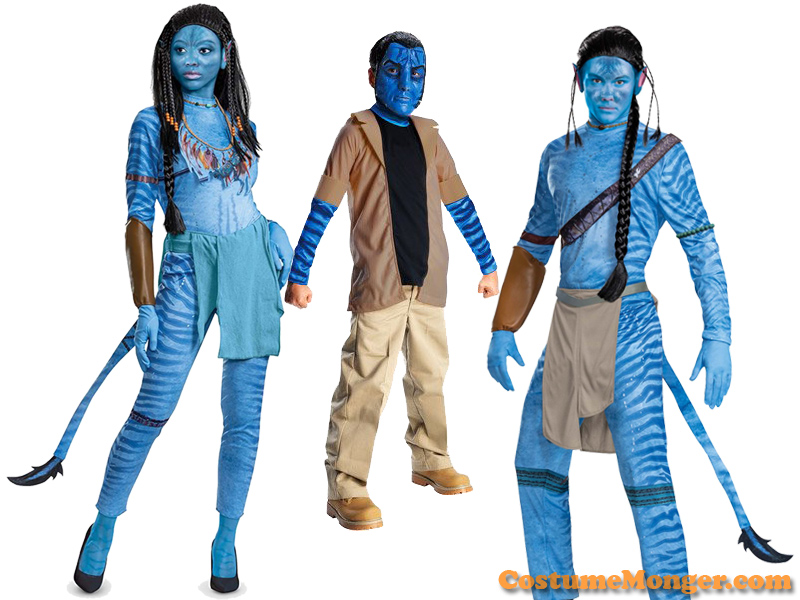 Movie fans have finally received the great news that the upcoming movie Avatar 2: The Way of Water will be released on December 16, 2022! So now is a great time to wear an Avatar costume for Halloween, especially after the big cinema announcement from director James Cameron. According to Variety, Cameron will be filming four Avatar movie sequels which will start being released soon back to back! It should be no surprise that these amazing Avatar Halloween movie costumes will be popular themes again next season so it's time to stock up! If you've been thinking about dressing up as Avatar for Halloween after seeing the movie in theaters and own the Blu-ray since the day it was released in retail stores. Shopping for a good discount Avatar movie costume can be a challenge and may become your own quest to find the best sale discount on these movie character outfits. There is also different type of Avatar costumes available for this season too. So don't sweat it if you can't decide which Avatar costume to buy, we will list the most popular ones to help you choose the right one that best suits you. These Na'vi costumes look very special.
Avatar 2 Halloween Costume Ideas
New Avatar 2 Na'vi Jake Sully Costume for Men

James Cameron newest Avatar movie will be released a week before Christmas. For this Halloween, you have the opportunity to suit up in this new Avatar 2 Na'vi Jake Sully cosutme! This is the deluxe Avatar costume set which includes the detailed blue jumpsuit with attached tail and gloves, removable gauntlets, loincloth, and pair of ears. This deluxe adult Jack Sully costume is available in medium, X-Large, and 2X-Large sizes.

---

Sexy Neytiri Costume for Adult Women

We have to start off with the sexiest Avatar movie costume by featuring the Neytiri Halloween costume. Now you (or a certain lucky woman) can be the blue, beautiful female Na'vi star of the movie. This blue Avatar jumpsuit is perfect for getting into the character of Neytiri – a huntress who loves the wilderness. Let these leopard-like lines accentuate your natural curves, and bring out the huntress in you (or a lady you'd like to have hunting you down). This Halloween costume includes the vibrant blue jumpsuit with backside zipper closure, attached tail, taupe apron/loin cloth, arm gauntlets, and beads. Make up and wig sold separately. This outfit is available in women sizes x-small, small, medium or large.

---

Kid's Deluxe Jake Sully Costume

Your children can also dress up as the main Avatar character Jake with this deluxe child Jake Sully Avatar movie costume. If your children are old enough to understand Jake's struggle to live as part of two different cultures and fight for justice, this is an out of this world alien outfit the kids are going to want to wear for Halloween. This deluxe kid Avatar costume includes the child Na'Vi face mask, blue sleeves, shirt, jacket and pants with attached Na'Vi tail. This child Jake Sully costume comes in boy sizes Small (4-6), Medium (8-10) and Large (12-14).

---

Girl's Neytiri Costume

This girl's Avatar costume lets your child dress up like the female Na'Vi character, Neytiri, from the blockbuster movie!  This child Neytiri Halloween costume features a full-length blue jumpsuit with character pattern and attached apron with beads, Na'Vi tail, and feather necklace.  Available in girl sizes: Small (4-6), Medium (8-10) and Large (12-14).

---

Deluxe Avatar Na'Vi Make-Up Kit

← This item is still available on eBay! Transform your face into an authentic Pandoran warrior with this official deluxe Avatar makeup kit consisting of blue latex ears, tray with dark blue, light blue, brown, and pink face cream, applicator, blue glitter gel, and stick on face jewel studs which will make you look just like the Na'Vi character Neytiri or Jake Sully from the movie Avatar.

---

Na'vi Jake Sully Deluxe Costume for Men

You have the option to dress up as the star of the movie. In this deluxe Avatar costume, you can become the hybrid character Jake Sully and explore his human side and his Na'vi avatar's role in the struggle to save planet Pandora. As his human identity, Jake wears the jacket, shirt and pants. But as his Na'vi avatar, the hero has blue skin and an exotic alien blue face – this is the perfect depiction of his dueling loyalties (and which one wins out). This deluxe Avatar Halloween costume features the blue character mask, Na'vi sleeves, jacket, shirt, and pants with attached tail. The Spear sold separately. This adult Jack Sully costume is available in Standard and X-Large sizes.

---
So we hope you enjoyed looking at this wonderful list of Avatar Halloween costume ideas. As you know this movie is still very popular and director James Cameron is seriously discussing a possible sequel that should be released in 2015. So these Avatar costumes will continue to be a success for years like other movie franchises. Fans enjoy dressing up as these characters not only for Halloween but also for cosplay events as well. Avid fans just love to dress up like Neytiri or Jake Sully and play like they live in that magical world of the Na'vi. What a magical world it was and what an amazing movie it was too. One of James Cameron's best movies! So whether you're looking for a kids or adult Avatar costume, you can find it here at this page. Fans believe the sexy Neytiri costume is the most creative women's Halloween costume. Whatever Avatar Movie Costume you choose, I'm sure you'll be the hit of the Halloween party!

Avatar 2: The Way of Water Official trailer!