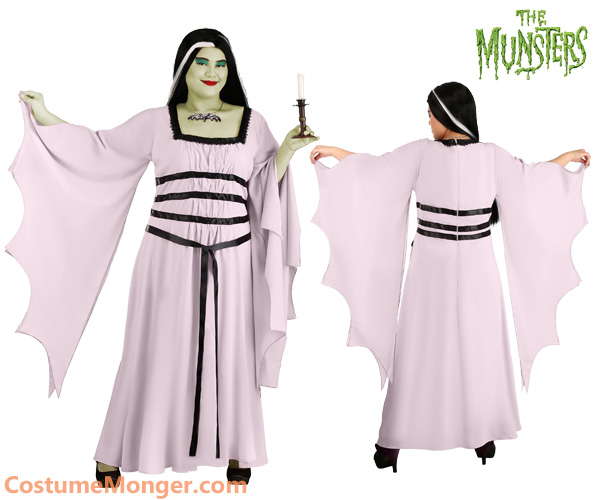 Classic sitcom TV fans got a real treat this Halloween season with the resurrection of The Munsters! The memorable spooky family are returning in their own movie this time! This 2022 Netflix film is a prequel and reboot of the classic 1964 television sitcom. In the original series, Canadian-American actress Yvonne De Carlo played Lily Munster, the matriarch of the eerie but lovable family! In the film version, Lily is now played by Sheri Moon Zombie, whose husband Rob Zombie directed the latest movie. No matter which Lily you prefer, if you need inspiration for a nostalgic and spooky costume this Halloween season, you should look back to the past for a classic but unusual mother figure that is perfect for Halloween! No mother from Sixties television is as haunting as Lily Munster, the strong, beautiful, and attractive matriarch of The Munster family. What person wouldn't want to be this comedic equivalent of the bride of Frankenstein? She's got all the green gothic beauty you dream of, plus a comedic timing and sensibility that leads to all the wonderful and wacky fun during Halloween. What other time do you have the perfect excuse to dress up as such a classic TV character for a night?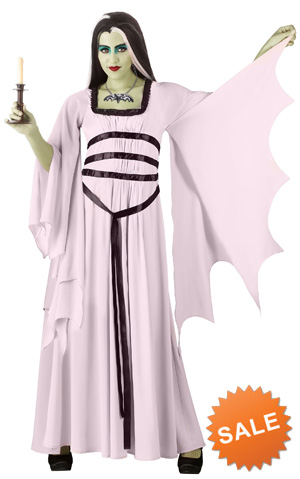 The mistress of Transylvania is always enchanting in her simple yet elegant Gothic dress. A Lily Munster dress costume is the best way to possess the spirit of Halloween while still looking extremely attractive. The Munsters officially licensed Lilly Halloween costume features a velvet ankle-length gown in a light pink hue, with black lace and trim. The arms offer slight contrast with long, sheer sleeves, adding a small touch of Victorian glamor.
Finally, it's Lily Munster's hair that makes her Halloween costume complete. If you already have her dress, you can purchase Mrs Munster's wig separately. Her long black wig features Lily's trademark white streak, a nod to the style of the Bride of Frankenstein, but with a comedic twist. This mistress of Transylvania hates to go to Halloween parties alone so you will want to consider making it a date with Herman Munster. If you need a couple's Halloween costume idea, you and your partner should get both Lily and Herman costumes!
Furthermore, by adding Eddie and Grandpa to the party, the entire family can go out as the Munsters clan for Halloween!
The official Lily Munster standard size costume comes with what you need to pull this character off, but you can still accessorize for added effect. One suggestion is to wear black pump shoes to compliment your dress, extend your eyelashes with glamorous eyelashes, and add a bat clutch handbag! This outfit is also available for children so your little girl can also dress up as the lovely Mrs. Munster! Her dress is the same design, color, and style as the adult version so your daughter or little one can go as a mini-version of Lily Munster!
While the daughter of Grandpa (Sam Dracula) is technically a vampire, Lily doesn't typically demonstrate any of these usual behaviors. In contrast, she's the voice of reason and glue that holds the Munsters family unit together, resolving whatever issues or mischiefs the rest of the family might provoke on their TV show. Lily isn't just a typical sitcom TV housewife. Her household wifely duties are opposite the norm. For example, she works her vacuum in reverse, spreading dust and dirt around their haunted house and making sure that everything is perfectly dusty and disordered enough for a monster to feel comfortable at home. To end, The Munsters costume and Halloween go hand in hand. There's no better way to participate in a haunted family holiday than with these spooky but lovable ghoulish characters. Everyone in the family can play a character role, keeping this Halloween night a family affair. A particularly fun costume event for moms, kids, and the rest of her family who want to get lost in their favorite TV sitcom characters for a night. Make sure to keep a camera phone handy because this is a Halloween that you're going to want to remember for the rest of your life! If you are interested in other character costumes from the Munsters family, take a look at these Halloween costumes below!