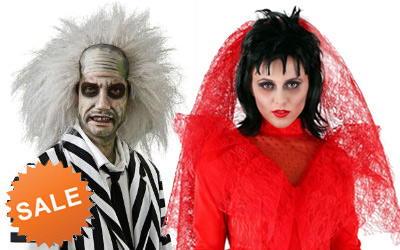 Currently the sequel Beetlejuice 2 is in the works and the movie sets have been built. However, due to the writers' strike, this movie sequel will not be released by Halloween. The good news is you can still dress up as the characters portrayed in the original classic. Everybody understands that Halloween night is the time to let loose your mischievous and playful dark sense of humor by dressing up as your favorite character at your costume party. Among the most popular character of the undead is the late '80s character Beetlejuice who is one of the most recognizable Halloween characters. You'll never have to worry about the dreaded, "What are you?" question at a party. Disguising yourself in a Beetlejuice Halloween costume is a humorous way to become one of the creepiest creatures in movie history and at the same time become the laugh of the party. In the contemporary world, some movie characters never become outdated. Beetlejuice aka Betelgeuse is one of those characters.  In Tim Burton's 1988 black comedy film, actor Michael Keaton cleverly plays the extremely hilarious but spooky supernatural being who stalks the movie's recently deceased protagonists Adam and Barbara Maitland played by Alec Baldwin and Gena Davis.  Actress Winona Ryder received a lot of attention in her portrayal as Lydia Deetz, the eccentric teenager who befriends the Adam and Barbara.  So you probably want to dress up as this supernatural comedian for Halloween.  We have listed some good Beetlejuice Halloween Costume Ideas for men, teenagers, women and even pets!  And if you are a big guy, there are also plus size Beetlejuice costumes.
The Best Beetlejuice Halloween Costume Ideas
XXL Plus Size Beetlejuice Costume – Big & Tall Men

---

1X-5X Plus Size Lydia Deetz Red Dress – Full Figure Women

---
Deluxe Beetlejuice Costume for Adults

If want to become Michael Keaton's Beetlejuice for Halloween, we recommend this deluxe quality Beetlejuice Halloween costume for adult men. Available in standard and x-large sizes for men!

---
Adult Shrunken Head Beetlejuice Costume

If you want to recreate the memorable waiting room scene where a voodoo witch doctor shrinks Beetlejuice's head in the movie, you will want this silly shrunken head costume!

---
Dog Beetlejuice Costume

Now your dog can finally take part in Beetlejuice cosplay for Halloween! This adorable pet Beetlejuice costume includes the trademark black and white jacket/shirt with necktie and wig! Small to XL sizes available.

---
So who is Beetlejuice and why is this '80s character still such a popular Halloween character today? In the film, Beetlejuice claims to be a bio-exorcist, who is an expert ghost who masters in casting away humans in the world of the undead…sort of a reverse exorcist. But there is a more obnoxious prankster side which he describes as the"ghost with the most" at night. When Adam and Barbara discover that they have died and a new family moved into their home, they channel Beetlejuice by calling his name and then requesting his help to scare the new invading family away. Since they are too inexperienced and nice to successfully frighten the new owners, they needed the expertise of Beetle Juice who knows his job way too well and this is where the fun begins in the movie.
If you are planning to reveal your devilish side and get loose during Halloween, then wearing a Beetlejuice outfit is definitely the perfect choice for you. From head to toe, this character is truly creepy, and becoming his evil persona will give you an excuse to play pranks on your friends and colleagues at the party. If you truly want to get into character, you must consider imitating his mischievousness. To enter the real world, Beetlejuice's name must be uttered three times. You can practice saying some of his famous lines from the movie or maybe tell your friends to call your name three times before turning your attention to them. It can be really obnoxious but it will also be a lot of fun to be "in the character" like Michael Keaton.
There are many choices for you to choose from through a wide variety of Beetle Juice costumes available this season. The traditional costume comes with hemmed pants and hemmed suit jacket. Big black stripes on both suit and pants make you an instant head-turner the moment you make your "demonic" entrance. Complete the gear with a white inner polo shirt and a black tie. Make your presence known with heavy loud big black boots.
You also have the Beetlejuice mask to complete your getup. The official overhead mask with hair is made with latex materials. This intricately crafted mask has fine details such as yellow teeth and green algae for a more realistic approach. Your friends will surely remember you with those elaborately sunken big and sinister eyes in their dreams…or nightmares. Other mask variations come in different materials such as vinyl masks with hair.
If you don't want to wear a mask, you can get the licensed and genuine Beetlejuice wig with a vinyl bald cap intricately designed with attached synthetic hair for a touch of reality. No need to worry if it fits comfortably and perfectly because you have one size fits most normal size heads. And you can also buy the official Beetlejuice makeup kit. Beetlejuice's appearance is so grotesque and nasty that you should wear additional white make-up to make your Beetlejuice costume really look like the undead. Just think about being gothic with whiter skin or a very scary Emo kid. His eyes are also lined with black eyeliner and darker eye bags and eyelids. The kit is complete with cream makeup and facial accessories that will allow you to look just like Michael Keaton's character! So dress up in this Halloween outfit and be the one to turn your next Halloween party into one terrifying scare! If you are still waiting for Beetlejuice Part 2 to be released in theaters, it's probably not going to happen because creator Tim Burton doesn't want to film a sequel but you can still bring Beetlejuice back to life on Halloween night!