More people this year want to dress up and celebrate the Christmas season so don't be surprised when your children ask if they can get an elf costume. There is a great selection of hats, pointed toe shoes, green jackets and suits, and belt cords. Whether at Christmas plays and pageants, parades, and parties, elf outfits for your kids are some of the best options. Kids Christmas elf costumes can make a creative statement for your child and can create a satisfying Christmas experience for the whole family. Donning in these costumes can boost the Christmas spirit and have your little elves bring joy to the surroundings.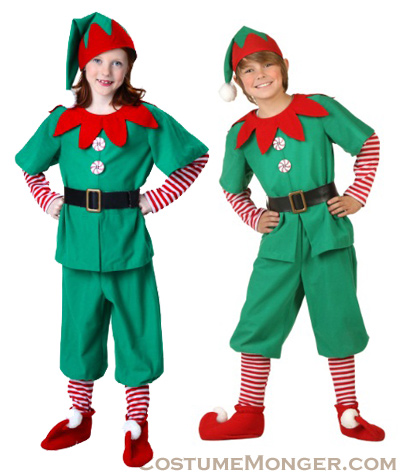 You can't deny elf costumes for children will always be way cuter than tho ones that the grown ups wear for Christmas. As Santa's little helpers, these outfits are made of red & green material with quality fabrics of polyester and cotton. With exclusive trimmings and cuts, each elf costume is unique on its own. Some of them have open jackets at the front with gold fabric buttons. There are tab closings and zippers in some elf costumes. Just be sure that your child is comfortable enough in wearing it. Trousers are also part of the elf costume and some of them have these elastic waist. Hats also come along as accessories with tinkling bells on the end. Suitable for girls & boys alike, these outfits can make any Christmas activity exciting and fun.
Christmas Elf Costume Ideas
Girls Festive Elf Costume

---

Kid Toy Maker Elf

---
Girls Santa Little Helper

---

Kid Elf Costume

---
Finished traditional elf costumes for kids consist of a green pointed hat and a short tunic. It should be decorated according to your kid's preference, however. There are also shapes that can be attached onto the costume such as stars, bells, and other Christmas ornaments and knickknacks you may find interesting. They certainly add a fascinating look to your child's elf costume.
Boys and girls alike can have unisex elf costumes. You can grab some quality accessories like green and elf shoes, gold bells, elf stockings, plush fur lining, braided ties, and even pom poms. Rubber bracelets also add a twist to kids Christmas elf costumes.