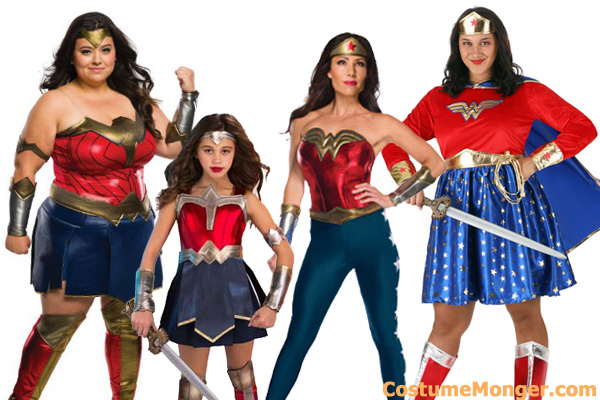 It's October again and that means Halloween is quickly creeping back so it's time to take action like a superheroine! If you need an eye-catching outfit to help you stand out from the crowd at your next party, you can suit up as one of the most popular legendary superheroines… Wonder Woman! This classic Amazonian character from the DC comic books made her mark in pop culture on the original 1970s television series starring actress Lynda Carter becoming America's most beautiful crime fighter. Throughout the years, Wonder Woman was able to maintain her popularity with today's generation due to her key roles in the DC comic books and animated TV shows. With her featured role (played by actress Gal Gadot) in the film Batman Vs Superman: Dawn of Justice, Justice League, and Wonder Woman and 1984 sequel, her popularity is stronger than ever! Young girls also love this heroine due to the hit kids animated program DC Superhero Girls. Check out the list below and see how you can dress up like Gal Gadot's version of the Amazonian princess or any classic version of comic book hero!
Best Wonder Woman Halloween Costume Ideas for 2023
Teen Wonder Woman Costume

This Justice League Wonder Girl costume for teens features an attractive red & blue strapless mini dress with WW logo and star designs, red cape, gauntlets, gold tiara, and red & white velvet boot tops. This teen girl's outfit is inspired by the Justice League of America DC Comics books. Available in teenager size 2-6.

---
Wonder Woman Girls Costume with Cape

Inspired by the iconic super heroine costumes of the past, this stylish outfit is a fun and fashionable take on the classic Wonder Woman costume which features a long sleeve shirt with the WW logo on the chest, cape star-spangled skirt, and gold belt with matching golden lasso! All you need to add are a pair of matching boots and tiara.

---
Deluxe DC Superhero Girls Wonder Woman Costume

Kids are excited about the new DC Superhero Girls cartoon series. This child outfit is inspired by the popular animated show about cool teenage superhero girls like Supergirl, Batgirl, Harley Quinn, and Bumblebee attending Super Hero High School. Children will love this new stylish outfit. Available in child sizes small, medium, and large.

---
Wonder Woman 1984 Movie Costume

This Halloween dress up as one of Justice League's strongest Amazonian fighter! This official deluxe super heroine costume is inspired by the Justice League movies. Available in woman sizes x-small to large.

---
Child Wonder Woman Tutu Costume

This kid Wonder Woman Halloween costume includes a cute blue tutu, red dress with insigna, red cape, tiara headpiece, gold belt, and silver gauntlet. Child sizes small (4-6x) and medium (8-10).


---
Sexy Wonder Woman Corset Halloween Costume

This new sexy dress includes a corset with a gold WW logo, tiara headpiece, blue skirt with white stars, silver gauntlets, red cape and gold belt. Sizes x-small to large.

---
The character's timeless popularity make her appealing to young girls who want to dress up in as the strong beautiful super heroine. 2017 will be even more exciting with the release of her own theatrical movie and then we will see her again in the upcoming Justice League of America feature film! Kids will especially love the new line of child Wonder Woman Halloween costumes produced this season with the wide variety of choices. Check out these new amazing lines of outfits below! You can also enhance your super heroine costume with accessories such as Wonder Woman's gold crown, magic bracelets or cuffs, long women's wig, and red boots with white stripes! Halloween is this Monday so if you are worried about receiving your costume on time, you can choose expedited shipping or overnight services from UPS or Fed Ex. Good news for fans! The Wonder Woman 3 is now being planned with Gal Gadot returning. When we hear more news on the latest Wonder Woman movie sequel, we will post updates and let everyone know!