Did you ever see the Addams Family movies? I'm sure you did! Well they're creepy and they're kooky, mysterious and spooky. They're all together ooky, it's the Addams Family!. Who didn't love the Addams family? They were truly an eccentric family. They have to be the weirdest family around since the Munsters but you really can't help but love their wicked ways and now you have the chance to dress up as a member of their family in a quality Addams Family Costume. Whether it's Gomez, Wednesday, Lurch, Morticia or even Fester you want to dress up as, we have surely got some surprises in store for you today. Any member of the family would be great costume to dress in for Halloween, but you can't deny Morticia would probably make the best character for Halloween. She has a combination of spookiness and sexiness, something that appeals to a lot of women who are looking for the perfect Halloween dress costume! Morticia Addams is the real head of the Addams Family, although Gomez doesn't like to think so! She is the wife of Gomez Addams and the Daughter of Grandma Addams. She is also the loving mother of both Pugsley and Wednesday. Morticia was the beautiful but somber lady of the house. She was mysterious and sexy.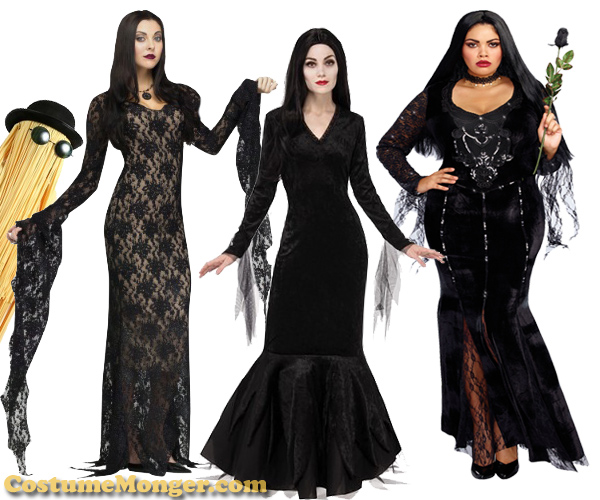 These costumes come in different sizes and styles. You can get a plus size dress for full figure women or a even small costume size for little young girls! Just click on the banner above to check out all the best Morticia Addams Halloween Costume Ideas! The Addams family was a group of fictional characters created by the late American cartoonist Charles Addams. They originally appeared in The New Yorker between 1938 and 1988. Eventually the cartoon family became a TV series, then a live action movie, a successful Broadway musical and currently a popular computer animated movie series with The Addams Family 2 released in theaters on October 1st!
The Addams are a complete opposite of the typical ideal American Family that you seen in traditional media; a bizarre rich family who were comedically interested in the gruesome and the offensive. Although they are unusual twisted, they are not evil. They were also completely oblivious or simply don't care about what other people think about them! Isn't that great! They are a close family unit even if it doesn't look like it on the surface. The matriarch Morticia is a traditional mother with her beloved husband Gomez are very passionate toward one another. She affectionally gives him the pet name, "Bubala." Gomez responds by kissing her arms and then when she says anything in French. The parents love their children in their odd and twisted way. The family act friendly and hospitable to visitors, even being incredibly generous by donating to charities and social causes.
American cartoonist Charles Addams originally created the characters back in 1938 as a comic strip in the New Yorker and the family members originally had no individual names. They were simply referred to as the Addams who were humans with unexplained supernatural abilities. They were a close-knit extended family with decidedly macabre interests. So when the television series began in the 1964, the producers and writers designated the names Gomez and Morticia Addams, their children Pugsley and Wednesday, Uncle Fester, Grandma, and the hairy Cousin Itt. The family also had an extremely tall butler named Lurch and a second unusual servant, which was a severed hand inside a box known as Thing. Together, they all live in a huge ominous mansion near a cemetery and a swamp at 0001 Cemetery Lane. All the members of the unique family shared an admiration for the occult and supernatural. The comedic dark nature downplays the seriousness of these scary attributes. In the show, much of the food they eat is inedible or deadly to normal humans and they take an hobbies in painful activities like walking across minefields or playfully temp fate with a sharp pendulum that could potentially slice them in half.
We hope you enjoyed this nostalgic look at back this unique family. Now with Halloween, you can now dress the part of your favorite Addams Family character. Join the family as the strange, yet alluring Morticia, a cultured lady who dabbled in the arts, raised flesh-eating plants, and trimmed her roses by cutting off the buds.