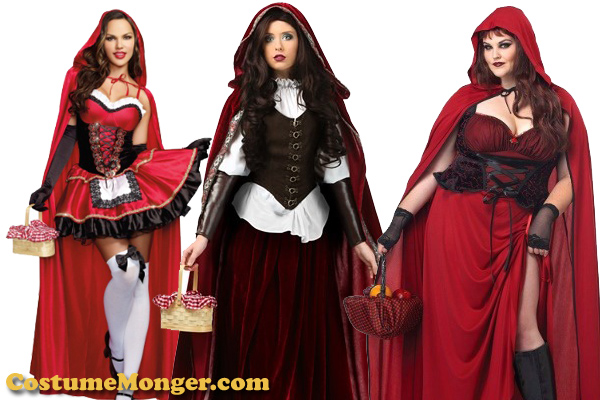 When it comes to Halloween, Little Red Riding Hood costumes are not just for little girls. Big girls like to dress up as Ms. Little Red Riding Hood too, especially when cosplay is becoming more mainstream these days. Everyone growing up fondly remembers the classic storybook about following the adventures of a young girl in a red hood and cape, traveling alone in the woods to deliver some food to her sick grandma who lives in the middle of some mysterious forest. When she arrives at grandmother's cottage and sees her buried under her garments and blankets in bed, Little Red Riding Hood picks up on the fact that something isn't quite right with her. Little Red Riding Hood quickly discovers that a hungry wolf is disguised at her grandmother and goes on the save herself and grandmother from the Big Bad Wolf! At least that was the storyline of one of many revisions of the original story.
This storyline mentioned above became the common narrative of the famous fairytale Little Red Riding Hood. The story has changed much throughout its history, and the story has been subject to numerous adaptations and readings. That version of the story most widely known today was adapted from the Brothers Grimm who originally told much darker versions of popular children fairytales.
The Best Little Red Riding Hood Halloween Costumes for Women
The worldwide appeal of this classic children fairytale makes Little Red Riding Hood an ideal costume theme for Halloween among people throughout the world. If you are search for the best Little Red Riding Hood costume idea for Halloween, this is the place to look. We researched the wide variety of creative dresses and costume designed inspired by Little Red Riding Hood and we can't blame you for wanting to dress up as Little Red for Halloween! There are dresses for women of all sizes and ages.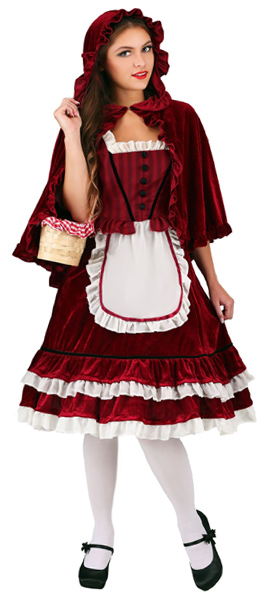 There are many beautiful full figure Red Riding Hood costumes for plus size women. There are both modest and sexy version of her costume to meet the appeal of people with different tastes. No matter which one of these outfits you choose, you can assure that people will instantly recognize who your are at your next Halloween costume party! So these dress costumes are the ones we recommend for Halloween!
The costume itself can be simple or complex depending upon your preference or choice. In the most basic form you simply need a red jacket with a hood. However, a good costume is never that simple and should either take a bit of work or be put together with care by someone else. The Red Riding Hood costume is one of those costumes that if you purchase you'll look so much better than trying to DIY the outfit on your own.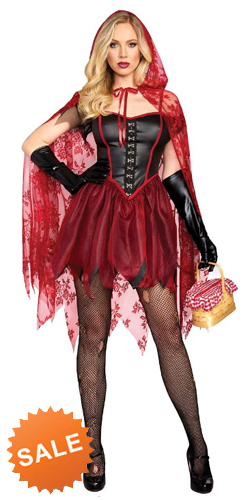 Fictional character costumes will never be limited to children. Good thing is, even if you are already a grown up lady, you can still show everyone at your Halloween party the beauty of the fairytale character without worrying about looking immature and embarassing silly. There have been various adult costumes of Red Riding Hood online that you may choose from so you can make the right choice in attires that are available in different sizes, styles, and fashion. To name a few good examples of these outfits, you may want to think about getting a lace-up front apron dress including a matching velvet hood, to portray that somewhat innocent but secretly fierce look that would intimidate the big bad wolf. However, if you want to at least attracts looks from potential big bad wolves on Halloween night, we suggest the stunning red velvet hooded cape, plus the dress with red velvet skirt and top with lace trim on sleeves, including the hem and short-sleeved white blouse secured with a dark belt, to give a distracting glimpse. Whatever be the concerns you are considering all this time, it can be addressed through these many collections.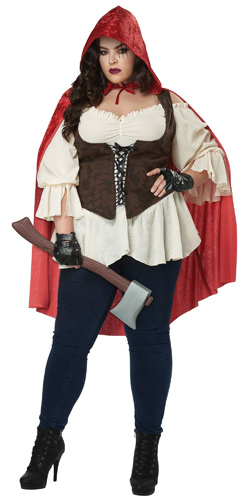 If you want to hear more about the story of Little Red Riding Hood, we can retell the classic tale while you look at your costume choices if it helps you get into the spirit of Little Red. The fairy tale revolves around a young girl who travels by foot through the isolated woods on the way to visit her sweet old grandmother who lives all by herself. Little Red Riding Hood gets her name by what she wears: a red hooded cape which is designed to keep her shoulders warm while walking through the cold dark forest. During her journey in the woods, Little Red Riding Hood gets confronted by a wolf walking down the same path. The conniving wolf quickly makes plan on how to make this vulnerable girl his next meal for lunch. However, his fear of being caught by the local woodsmen keep him from pouncing on her like prey. Instead decides to premediate his crime. First, he tries to get to know her plans by asking her where she is walking to that afternoon. Little Red Riding is too naïve to pick up on the cunning wolf's inquisitive behavior and reveals to him that in she is on the way to visit her sick old grandmother to give her some food. The wolf tells her that he must be going and abruptly departs, disappearing into the woods.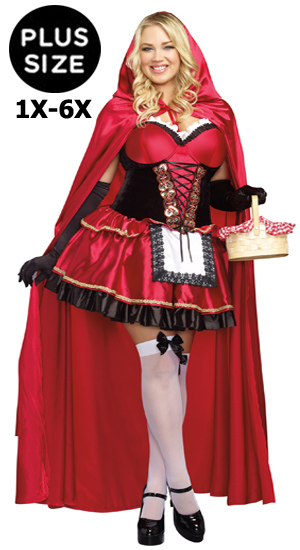 Add a Big Bad Wolf to your Halloween Costume Party!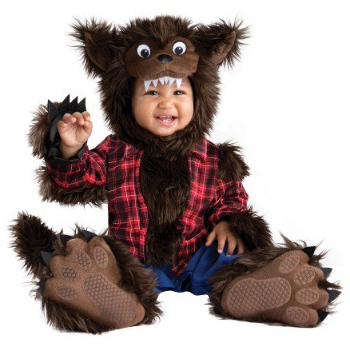 By the way, if you're ready for another costume suggestion and have a little child who wants to be your Halloween partner, you can dress up your baby or toddler in a little Big Bad Wolf costume like you see here on the right! This will bring a lot of smiles when your friends see you carrying a adorable "little Big Bad Wolf" while you're dressed up as "Big Little Red Riding Hood" for Halloween. Returning to the story, the wolf quickly move ahead, going straight to her grandmother's house before Little Red. Unfortunately, the wolf quickly devours grandma, making the wolf's great appetite for people even greater than before! The cunning wolf then slips into Grandma's bedtime gown and night cap, then hides under the blankets on her bed, waiting for Little Red Riding Hood to arrive at the house.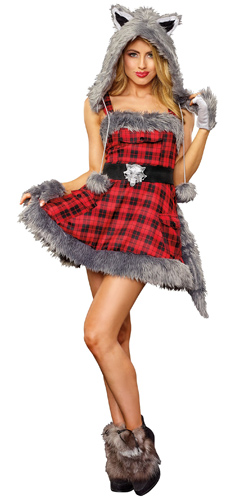 When Little Red Riding Hood finally makes it to her dear grandmother's home, she is startled by the strikingly unusual appearance of her grandmother. She says her classic line, "my, what big hands you have" when she notices how large her petite grandmother appears in her bed. Little Red Riding Hood cannot help herself in pointing out how odd her grandmother's features are, and when she finally gets to observing her teeth, Little Red says, "my what big teeth you have"! Then the diabolical wolf returns with, "all the better to eat you with my dear" and then gobbles down Little Red Riding Hood straight into his tummy. The story's ending eventually changed to the woodsmen cutting open the wolf to free and save Little Red and Grandmother from the wolf's stomach to give it a less dark conclusion.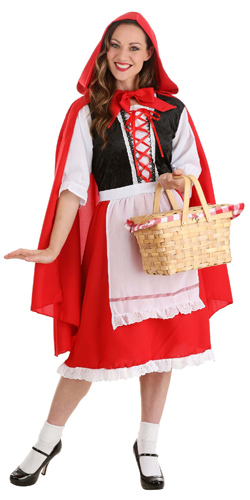 Despite all the changes in the story over the years to make the story more child friendly, Little Red Riding Hood is an iconic figure who people of all ages want to dress up as when they need to choose a classic fairy tale character for Halloween! There are many varieties of her costumes available to dress up in for women of all shapes and sizes. In fact, people of any age can have a great time being in character as Little Red Riding Hood. There are some main costume accessories that every Little Red Riding Hood costume must have to make it instantly recognizable but every costume has their own creative differences and unique quality.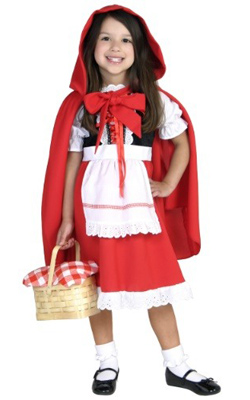 Every Little Red Riding costume features her iconic red cape and hood. She she would not be the character without it. In the different versions of the character's fairytale story, lenght of the cape always varies. Some stories portray Little Red Riding Hood wearing a very long red cape while other versions reveal that she wears a very short red cape. So the length will just depend on your personal preference. Some capes are very long and trail down to the floor which some people do not like because they can trip over them. So for other people, they prefer the capes end right at the mid thigh while other red capes are simply little shoulder capelets that do not extend down the back much. Some costumes even have red velvet capes or pretty sheer red capes that flow right down to the floor.
The next iconic costume accessory for Little Red is her cute red dress that complements the cape. Normally, it's a red skirt with a little white short sleeved top tucked into a wide black belt or black bustier. There can be many styles of this dress costume with each version basically consisting of the similar style of skirt, top, and bustier but each costume differs slightly for the women's personal preference, some being modest and conservative while others being sexier with shorter skirts with bustiers and tops that are more form fitting, revealing and risque. So the character has matured in appearance when it comes to Halloween, where we see women wearing a more sexier version of the costume that reveals more of the legs with its a short skirt with shapely busier, fishnet stockings, and faux leather high heeled boots. In the illustrated storybook tales, you can see Little Red Riding Hood carrying a little woven basket full of goodies to bring to her lovely old grandmother. So the woven basket is a wise costume accessory choice to enhance your appearance of your Little Red Riding Hood dress costume. And you can't forget about getting a lovely pair of women shoes which are normally a cute pair of flat or high heeled black Mary Janes! Moreover, if you want to have complimentary costumes with your partner or friends, we suggest that they dress up as the Big Bad Wolf for this Halloween weekend!