When Halloween comes to mind, you think about words that conjure the season up such as dark, spooky, scary, and macabre. If there is an iconic Halloween character that embodied all these Halloween words with an outrageous humorous and sexy twist…then it's Elvira Mistress of the Dark! If you are a fan of campy scary movies during the 1980's and 1990's, you will remember Elvira! This mistress of the dark was the shapely horror movie host of Movie Macabre (1981-1993) which featured horror films that were so bad and campy that they were good! Her show quickly gained a cult following and her loyal fans to this day are still dedicated to following her career! Elvira had personality, wit, and a figure that perfectly filled her beautiful black dress that no one could forget. She is a Halloween icon and wearing an Elvira costume will go down a storm at any party! So it's no shocker that Elvira's costume has become an iconic costume theme for Halloween for many years! What makes adult Elvira costumes so beloved is that they are able to create that dark sumptuous look, which is done by ensuring that every dress costume hugs tightly around the curves of your body.
The Best Elvira Halloween Costume Ideas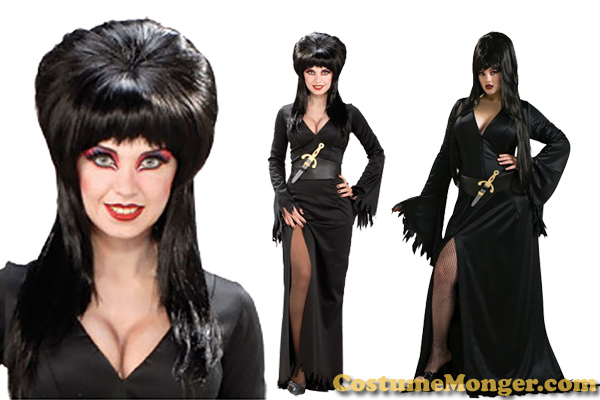 Elvira, known to be morbidly funny and beautiful at the same time, can win over anyone and leave you in stitches. This beautiful brunette buxom bombshell dressed in all black always had something witty to say to her TV audience while she was hosting her famous late night horror show. Because her tight fitting low-cut black gown showed off more assets than had ever been seen on mainstream television, Elvira rapidly gained notoriety outside the horror movie genre. She became an icon of the punk and goth movement as well as fame with gay popular culture. Elvira's universal appeal with many demographics has led her to become known as the unofficial spokeswoman for Halloween.

Adult Elvira Dress Halloween Costume

This Halloween disguise yourself as the beautiful Mistress of the Dark, Elvira! This sexy outfit is her iconic black dress that will show off your best assests at your next costume party!


---
Plus Size Elvira Costume 1X 2X for Full Figure Women

If you want to transform yourself into Elvira, Mistress of the Dark, then this beautiful Elvira costume, with its long black dress with plunging neckline and above the thigh dress slit, will do the trick. This plus size Elvira dress costume for full figure women comes in sizes 1X and 2X. Show off your curves on Halloween night. Click to see details on measurements.


---
The sexy Elvira Halloween costume reflects what she is famous for. It comes with the infamous Elvira black dress, very elegant yet still scary enough with the tattered and torn trim around the sleeves and hem of the dress. These dresses will make you look your best and of course how could you not with these black form fitting Elvira dresses. One look at you at a big Halloween costume party and everyone will know exactly what character you are supposed to be. There will be no awkward confused questions such as, what are you or so who are you supposed to be?" We did find the variation in sizes and styles of Elvira's dress for you to pick from so all women from all walks of life can dress up as the famous mistress of the dark. Plus size Elvira costume dresses have been a popular choice for full figure women who wants to show off their curves. For those who are shyer, there are more conservative Elvira outfits that doesn't get too low cut and expose more of your assets. You can't forget about Elvira's iconic beehive hairdo. Her hairstyle is quite unique with her hair dark black and straight with lots of volume on the top. Fortunately, if you don't naturally have Elvira's big hair style, you can get an Elvira wig because we know beehive Elvira wigs are not easy to recreate. And guys, it's 2021 so we know Elvira isn't just for women! If you are a big and tall guy who wants to dress up as Elvira too, we recommend wearing the plus size Elvira costume, but you might need to buy this chest prop to help you recreate Elvira's most famous features.
If you are new to Elvira, you probably have friends or family members who are obsessed with this mistress of the dark! So who is this character? Elvira was in real life played by Cassandra Peterson, an actress who was the host of a local television program called "Movie Macabre", which featured campy old horror movies every week, on Channel 9 in Los Angeles during the 1980s. Instead of being the classic cold horror mistress, Cassandra added a twist to the character by making her more into a quick-witted 80s valley-girl.
The character eventually became a huge nationwide success. She appeared on The Tonight Show starring Johnny Carson as well as many other talk shows and had guest roles in popular primetime television shows such as Fantasy Island, The Fall Guy, and CHiPs. Hollywood then gave Cassandra Peterson her biggest break of all, her own movie in 1988 entitled, of course, Elvira, Mistress of the Dark. The screenplay was written by Cassandra Peterson herself along with writers Sam Egan and John Paragon who later helped her write in the 2001 sequel Elvira's Haunted Hills! So Elvira has been a Halloween icon for almost 4 decades and today, Cassandra is still working as Elvira currently hosting Shudder's Halloween Movie Marathons for this season of Halloween on AMC+! The character of Elvira symbolizes what Halloween is about – the fun, twisted, spooky and frightening. Dressing in black gothic style dress as a homage to the legendary Elvira's is a fun way to have a great time at your Halloween costume party with your friends!