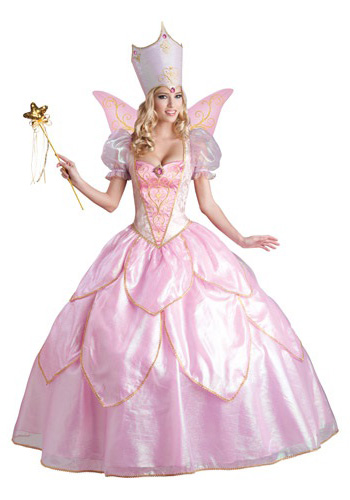 In almost every fairy tale storybook, there is a fairy godmother. Most fairy godmothers are good, but there are those that are not so good as well. We found what you need to design your fairy godmother costume whether she's good or bad is your choice. You can be the fairy godmother on Halloween or host your child's birthday party as the enchanted fairy godmother.
You can choose your fairy godmother costume in good, evil, old or young. You may personalize your costume with a variety of accessories to get just the look you want. The gown is the main element of the costume. You can select a gown in lighter colors such as baby pink or blue, white or cream. A floor length gown gives a more genuine appeal to the character. You can choose a gown with beautiful embroidery and glitter as well as gorgeous white lace. An evil fairy godmother costume will have a dark colored gown such as a shade of green, brown or even black if you like. Any embroidery or lace will be black. A gown that had edges that are ripped or have a worn look are common for the evil character.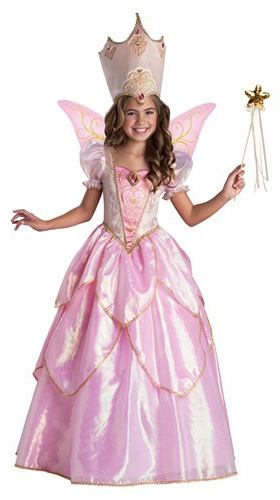 Accessorizing your fairy godmother costume will complete the entire look. Wings are a great way to get the genuine look. Most wings are made of gauze and ruffles. White wings are used with a good fairy godmother while black ones are used for an evil version. You can also choose eyeglasses that are cat-rimmed and a wand. Sparkly, white wands or silver and gold tone wands are perfect for the good fairy godmother. You will want a black or other darker colored wand for the bad one. The good fairy godmother is the one character that completes every fairy tale. You simply cannot do without her. She may be evil, she may be good, but she certainly indispensable. No story or party for that matter is complete without her. She is the ideal costume for every occasion. It is versatile, edgy and fit for every occasion. You can wear it to be the coveted wish granter of all others in a Halloween party, or dress up in it to enchant all the children in your neighborhood. It is all up to you. Accessories are the one thing that makes this costume look completely authentic and personalized. And of course, nothing makes this costume more complete than the perfect attitude.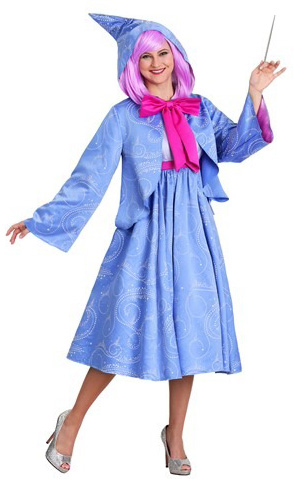 The basic component of the fairy god mother costume is the gown which is usually in light colors like white, cream, baby blue and baby pink. The gown is either floor length or shorter with a more fashionably cut frill. The gown is usually embroidered with glitter and mounts of frilly white lace. The bad fairy god mother has a similar gown with distinct differences. She usually has a gown in a dark color which may be dusky green, dark brown or even black. The frills and all embroidery are in black. For a more authentic look, her gown may also be tattered and ripped at edges.
Accessories play a huge role in this costume. Wings, made of gauze and ruffle are a must. The good fairy god mother usually has white wings while the evil one has black. Other accessories include cat-rimmed glasses and wands.
Ideas for Fairy Godmother Accessories
Bring the look of your dress costume together with the perfect accessories. Everyone knows their Fairy Godmother carries the all-important magical wand. There are various styles and lengths of wands. Some are adorned with beautiful colored faux jewels and sparkle like the stars when granting wishes. Choose a wand to coordinate with the colors you have chosen in the costume. Many wands have tassels adding to the allure when waved. Adorn your fairy head with a sparkling head pieces such as a tiara or crown. An oversized jeweled necklace is often seen around the neck. To add to the mystique of the look, a bottle of bubbles with a large wand can be a lot of fun. Your Fairy Godmother can send bubbles with each wish she grants.
Measuring for Your Costume
Turning pumpkins into coaches and looking after the would-be princesses of the world is a big job – and one that requires comfort. A poorly fitted costume can make performing your godmotherly duties a bit difficult. Proper measurements will ensure that your costume fits you well so that you can wear it from the very moment you get it out of its box. Measure your waist, hips and chest, and note your height and weight. Compare these measurements to those listed for the costume, usually in a "size chart" link when ordering online. Voila! Finding your size is simple and requires no magic wand.
Who would not love to be on the receiving end of a Godmother's wand? Well you can be the one dispensing miracles with your magical dress. You could go in for lighter colors of pink or blue or even cream and white. Use a full-length gown, even if it is for a little girl. It gives you the regal look that is an important part of playing fairy Godmother for Halloween
The good fairy god mother costume is an outfit that is so easy to pull off with poise and grandeur. The main component of this magical motherly costume is the dress. The gown is made of 100% polyester with trimmings of velvet and lace. There is usually an optional petticoat that gives volume to the dress. The dress is in light subtle colors that encompass pastel shades like cream and peach. The evil fairy god mother's dress, however, is a tirade of dark colors like velvety greens and rust. Even the laces in this dress are black. The overall effect is quite dramatic. The sleeves of this dress can either be full, bell sleeves or none at all. Both of these options lend femininity and oomph to the fairy mother costume. The heart of this costume lies in its accessories. You simply cannot do without it. The most basic accessory is a pair of framed wired wings that are attached to the back of the fairy god mother. These wings can be white or cream for the good fairy, or black and red for the wicked one. A wand is a must. Wands come in different lengths, shapes and colors. Another accessory all fairy mothers love are a pair of good old cat rimmed glasses. These glasses are pointed at the rims and ooze of sexiness. The colors of the rim can lend a good or wicked accent to the costume.