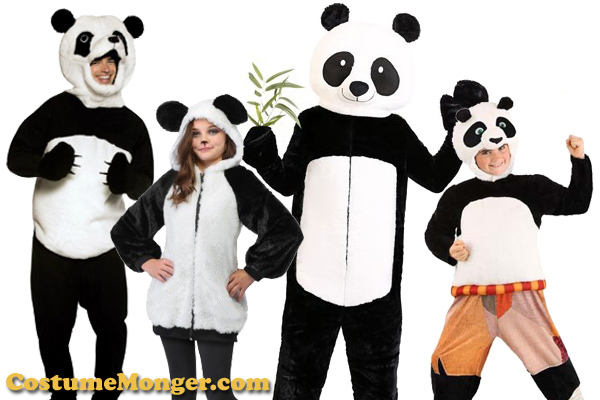 Instead of being a scary monster for Halloween, choose a cute and funny animal Halloween costume today! Nothing can be cuter than a panda. These lovable furry animals from the Far East that have fascinated Westerners for many centuries. These adorable bamboo-eating creature's furry black and white pattern, in particular their raccoon like mask around their eyes, make them look like the cuddly toy animals that people find to be irresistibly cute! So it's not surprising that pandas are a popular costume theme for kids. These panda Halloween costumes are not only for children, you can also shop for some quality Panda costumes for adult men and women. Halloween will be back in a few months so stay ahead of the rush and start shopping for your favorite outfit today. Take a look at these fantastic sale bargains on Panda Halloween costumes online!
The Best Panda Halloween Costume Ideas 2021
Adult Panda Mascot

If you are looking for a great bargain on a low price Panda mascot costume for men or women, we recommend this one. The kids will love this furry mascot which includes the black and white suit with mitts, feet, and character head.

---
Cute Tween Panda Costume for Girls

This Pandamonium costume is a cute, stylish, hip feminine panda costume that girls will love to wear on Halloween. It features a cool imprinted dress, black vest, panda head hood, black leggings and fluffy boot covers. Tween sizes 8-10, 10-12, and 12-14.

---

Is a Panda bear more like a stuffed Teddy bear with a raccoon's color? Don't laugh. The characteristic "mask-like" marking around their eyes have led many kids to ask this silly question. This Halloween season why not go for one of the cutest costumes ever, a Panda Halloween costume from your favorite Halloween store! Pandas certainly look like bears, but they have a few unusual features – such as those raccoon-like markings around the eyes – which led people to believe that they are more docile and innocent than they really are. After scientists debating over this animal's origin for hundred years, geneticists were finally able to test the DNA from pandas and determine how genetically related they are to bears. They found that pandas the rarest of bears – found in a wilderness area in China that continues to vanish due to the expansion of civilization.
You'll look wild and cute as you invoke the animal within in an adult Panda costume for sale. If you think these cute cuddly panda bear costumes are cute, check out our listings to see other adorable bear Halloween costumes for kids.