There are very few films that have showcased daring quests and then gone on to become the personification of adventure like the Indiana Jones films have done. From the giant boulder escape scene to the fast paced mine car chase sequence and Jones hurling himself onto the moving tank, the Indiana Jones films creatively reimagined the concept of action-adventure films. Indiana Jones is one of the most legendary movie characters from the Eighties. When you hear the opening score of the music soundtrack from the Indiana Jones sagas, you likely get an immediate feeling of excitement and adventure. You picture Harrison Ford, in his trademark Indiana Jones jacket and fedora, seeking out danger and barely avoiding certain death. You can almost picture yourself running through remote areas of the world, searching for long-lost artifacts, and saving the beautiful girl. Throughout his four movies, his adventures have catapulted him into one of the top cinematic action heroes today. His wit and humor along with his athletic abilities have earned admiration of fans from millions of fans around the world!
Best Indiana Jones Costume Ideas for Halloween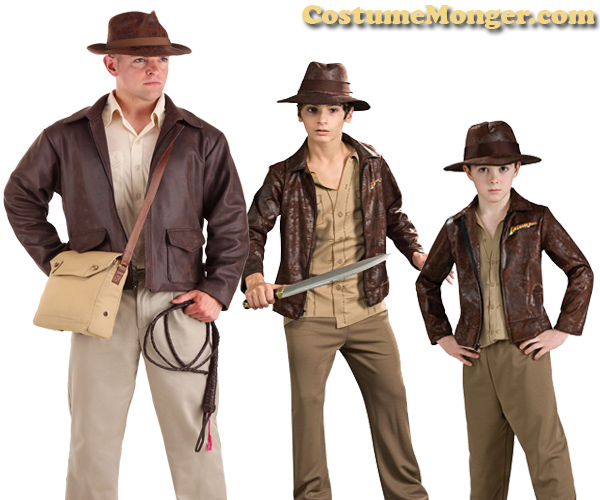 This iconic adventure hero's name is Henry "Indiana" Walton Jones Jr. an archaeologist and adventurer who also a professor of a prestigious university where most students find his strong and intelligent demeaner to be extremely attractive and fascinating. His adventurous background is surely a great subject for most kids and young ones who are always driven to make explorations and discoveries of their own life. This is exactly why fans want their own Indiana Jones costume for Halloween!
All four adventure movies in created for Indiana Jones became smashing blockbusters since its original theatrical debut in back in 1981, originally called Raiders of the Lost Ark. It was followed by a successful prequel in 1984 called Indiana Jones and the Temple of Doom and then in 1989, Indiana Jones and the Last Crusade. Fans thought the franchised ended as a trilogy until Lucas and Spielberg brought back Harrison Ford as Indy for another movie adventure in 2008 called Indiana Jones and the Kingdom of the Crystal Skull. This latest installed is set in 1957 where we see a much more mature Indy reunited with his first movie love interest Marion played by Karen Allen.
The technical brilliance of Steven Spielberg's direction combined with George Lucas's talent for weaving the most imaginative stories raised the Indiana Jones films to a pedestal achieved by only a handful of films. Even back in the 1980s, the extravagant production of George Lucas was evident in the movies. And the image of Harrison Ford as Indiana Jones is impossible to efface from the hearts of true Indy fans.
Part of the allure and mystique surrounding character of Indy is his trademark brown leather jacket and fedora hat. The original Indiana Jones jacket was designed by Deborah Nadoolman for Raiders of the Lost Ark movie. It was then commissioned by Peter Botwright, who meticulously altered the jacket until it met the approval of the Harrison Ford.
This Indiana Jones jacket is not something you would find on fashion runways in Milan. It's style is simple, inspired by the practical design of leather jackets preferred by aviators during the time after World War I. These jackets were engineered for their functionality, durability and keeping out the elements, not for aesthetics…even though they look very cool on Indy.
But when you throw on the fedora hat, bullwhip and a whole lot of confidence and wit, you have transformed your ordinary self into the Indiana Jones with the Indy leather jacket. Everyone knows what it is, and everyone can picture it. The jacket has come to represent adventure, bravery, and legend in popular culture.
There is a long history behind Indiana Jones' jacket. If you're a true Indy fan, you will know that it has traveled the world. The jacket has taken the adventurous archaeologist from the mountains of Nepal, to the sand dunes of Arabia, from the nightclubs in Shanghai, to plane crashes in remote India. It has survived Nazi boat chases in Venice, battle skirmishes in Austria, air raids in Germany, and the hot desert skies of Turkey. Imagine stories, it could tell if it could speak…experiencing adventures of the world in a few years than most of people will dream about in their lifetime! That's why the movie series has so many fans to this today.
While filming the different Indiana Jones sequels, the jacket has undergone some minor, almost imperceptible transformations. For the original Raiders of the Lost Ark, the jacket was manually aged by hand to enhance a worn texture, using none other but Harrison Ford's own pocket knife and a wire brush. For the prequel Temple of Doom, the jacket was slightly altered to add another inch to the hem and give a bit looser fitting so Indy had a easier time swinging by his whip and fighting the bad guys. Although this version of the leather jacket was contracted out to be produced more cheaply by production for some reason. When the time came to shoot the Last Crusade, the costume designers hired the original designer Peter Botwright back to give it proper alterations. Botwright added a snap button to the storm flap, and crafted the jacket from cowhide rather than the original lambskin. However, unless you look at it closely, you probably won't notice any of the changes on Indy's jacket.
Did you know that actor Harrison Ford in 1989 donated his original Indiana Jones jacket, along with his iconic leather fedora hat, to the Smithsonian Institute. Then later in 1999, the Smithsonian added his trademark bullwhip to the collection where it remains in the museum to this day so all fans to appreciate it While you can't purchase the original Indiana Jones jacket, there is a high quality replica of the jacket that you can wear for cosplay or Halloween!
Indiana Jones is still a favorite for Halloween, and you can find costumes in sizes for kids, teens, and adults. Costume kits typically include the Indiana Jones jacket, fedora, and the bullwhip. This is a timeless costume that people will always recognize, no matter how old the people at your costume are. Unlike other pop culture icons, it doesn't appear that Indiana Jones will be going away anytime soon. If you haven't heard yet, Steven Spielberg and Harrison Ford are coming back for another Indiana Jones movie for 2023! Indiana Jones 5 have many rumors being gossiped on the Internet…including a rumored time travel subplot where we will get to see young Indiana Jones (thanks to CGI) return to our silver screen!