October is here and in less than two weeks Halloween is coming back! This Halloween season why not play out and fulfill your devilish desires in a sexy devil woman costume? There are a variety of sexy devil Halloween costumes available for all women in all sizes which you can to choose from. Some of these devilish outfits come in wicked red theme colors and fiery flame patterns, complete with unique devil horns, devil wings, pitchforks, and other fun devilish accessories to complete your ultimate sexy female devil costumes. The alluring and enticing short, sassy, flirty devil dresses as well as the long, dark and mysterious, seductive red devil dresses can be found for every shape, size, and style. Here are some of the best sexy devil woman Halloween costumes and if you are going with your significant other, you can pair it with a handsomely devil man costume that will make you the most diabolical couple of Halloween night.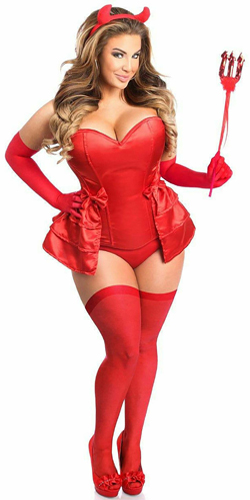 If you are looking for something naughty but cute this Halloween, then why not try a sexy devil Halloween costume? The angels may be attractive, nice, and sweet, but nothing is sexier than a hot she-devil walking confidently and provocatively on Halloween night! Dressing up us a devil woman this season will give you an excuse to playfully punish all your friends who has been naughty. You can also look as sexy and devilish as you want. The iconic color of the devil is red which is the color that instantly captures the naked eye. In a sexy red she-devil costume, you will surely catch everybody's eyes at your next Halloween party. Everyone will notice and admire you in your outfit!
If you are searching for that ideal red hot devil Halloween costume that isn't too revealing, you should definitely take a look at the shapely women's devil jumpsuit costume which is designed to show off your shapely assets but not a lot of skin! You zip up the back of this sleek sleeve-less catsuit which makes changing and quick potty breaks easy for ladies! The jumpsuit has a slit just below the neckline that reveal some but not too much cleavage. The reflective red catsuit will give off a nice glowing shimmer when you walk around your next Halloween costume party! It also includes the iconic devil horns, the pointed devil tail, and long red gloves. Pitchforks are sold separately but easy to add with your costume order! This outfit is available in women sizes small to extra-large.
If you need a plus size outfit, stay here and take a look at this sexy plus size Heavy Metal Devil Woman black dress! This sexy black dress is available in plus sizes 1X-5X for full figure women! The reflective fabric gives the costume a nice slick wet look that will get you some attention. The black heavy metal costume theme makes a design twist on the classic type of devil girl dresses!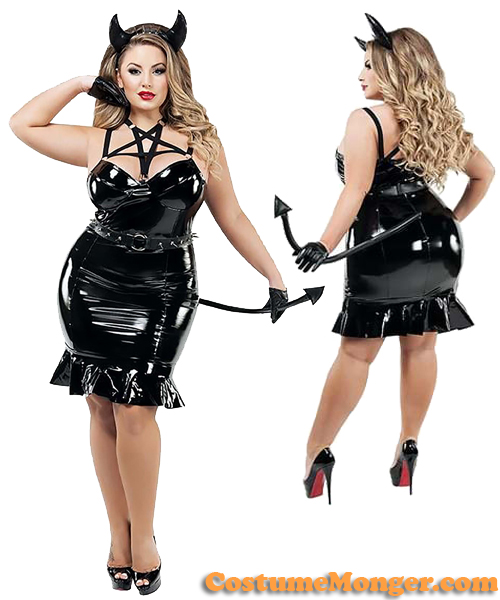 A more dramatic version of the sexy devil is offered by the Seductive Devil Adult Costume. You will feel like no ordinary devil, but rather like the queen devil that has everything in her power. This sexy devil costume is far more than just provocative, it is elegant and stylish, attractive and unforgettable. Plus, it will successfully protect you against the October wind and cold. It includes a long, red velvet cape with high collar, which gives you more attitude, a black belt with jewelry applied to it and a mini dress which will let everyone see as much as you want them to see. Two stylized horns will complete your devilish look.

Speaking of tasteful elegance, there is nothing better than having an outfit that reflects your personality and showcases your assets. For example, if you have great legs, pick an outfit that shows them off! And if you have a great bosom, why not do the same! On the other hand, even though your friends may suggest to you to go for a short red skirt if you want to be a sexy devil, you should not wear that type of dress unless you feel comfortable dressing up in one! If you do not want to wear a short dress for your Devil Halloween costume, you can still play part and wear a more modest medium or even long dress.
A good example of more modest devil woman costume which can be sexy without being vulgar or too provocative is the Bad Religion Demon dress. Just like all the other outfits, this one also includes an attractive red dress. However, in this instance the dress has a slit on the right side so you can partially expose your leg and thigh while at the back and on the opposite part of the slit the dress is long. This outfit also includes intimidating dark red horns for a more daring appearance. You can slip on a pair of red high heels with this dress for a more dramatic impact on those that walk cross your path to your next costume party! So, who says that you have to wear skimpy dress or show a lot of skin to be a hot and glamorous devil?
This Halloween, you might see more than one devil in the room at the same costume party, but with the proper outfit and with the right devilish confidence and attitude you will manage to surpass all your female competitors and have the best dress at the Halloween party. So don't hold back! You can be as elegant, hot, sexy, and devilishly mean this season. You will not fail to impress anyone this year dressed in one of these hot she-devil costumes!