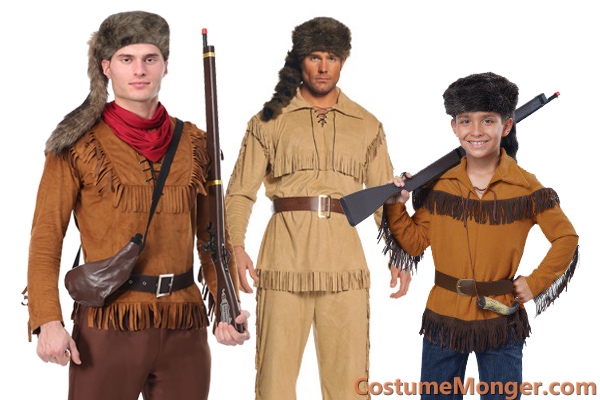 This Halloween you can become an American legend! Davy Crockett is a legendary American folk hero who was born in Greene County, Tennessee on August 17, 1786. His parents were named John and Rebecka Hawkins. There is not much historical information about his parents and early childhood available but when he was 13, Davy supposedly ran away from home and did not return to see his parents for 30 months! He was raised in his birth state Tennessee where he developed his famous outdoor skills as a hunter and frontier man. His life as a famous frontiersman (who also became a soldier and politician) inspired many folklore and exciting adventure stories that are still popular in the United States today. He was also known as a great storyteller who entertained his friends and colleagues. He grew up to serve as a colonel in a Tennessee militia and then in 1821 elected as state legislature for that state. He moved further in his political career when he was elected in 1826 to be Tennessee's 12th district member of the US House of Representatives. During his term, he was very vocal against President Andrew Jackson's policies, in particular the Indian Removal Act. Crockett's strong political stance against President Jackson's anti-Indian politics lead him to lose his re-election in 1834. Afterward, He moved to Texas where he participated in the Texas Revolution and lost his life at the Battle of the Alamo in 1836.
Davy Crockett Costume Ideas for 2022
From that point in time, historical accounts, stories, and stage plays portrayed his life as a heroic frontiersman, turning Davy into a popular folk legend in American culture. His legacy inspired many books, movies, and television shows. In 1948, Walt Disney's production company successfully produced a series based on Davy Crockett starring actor Fess Parker, publicizing the character to a new generation of Americans. Davy Crockett's popularity soared due to Disney's television series, making merchandise based on his character very profitable during the 1950s. This popularity eventually died down during the '60s but his series still lives on as series reruns which are still broadcast on television today.
As a nostalgic American cultural icon, this legendary frontiersman has become a great Halloween costume idea for kids and adults looking for a more classical character to dress up as for the holiday season. If you need a good Davy Crockett costume idea for kids or men, check out our recommended choices below or on the sidebar for the latest bargains on frontiersman costumes and accessories such as Davy's iconic frontiersman "coonskin" cap or raccoon hat on sale.
Since the Davy Crockett is now a permanent part of classic American legends and folklore, you will never have to worry about your Davy Crockett costume going out of style. Since Native American culture influenced Davy's life in the wilderness, many of the traditional earth tone suede Indian costumes will work. These timeless costumes aren't only for Halloween. These are great for outdoor activities, role-playing, school and theater. So don't wait too long over getting your own Frontiersman clothing today! Halloween is almost here!