You picked out your spooky Halloween costume but your house may not be haunted, but you can still throw a great Halloween party this year!
Here are a few ideas to make your Halloween party the spookiest place to be.
Activities
Kids love to do all the traditional Halloween party things. They can bob for apples or paint their own miniature sized pumpkin. You can set up an area with color-safe paint, inexpensive paint brushes, cups of water, and newspaper for them to paint on top of.
Have a costume contest! (Hopefully, you'll have the best one, dressed in your Jason Voorhees costume). Let everyone vote for the best halloween costumes and send the winner home with a prize.
For the adults, make some spooky beverages! Place plastic eye balls in your ice cube trays, fill with water and freeze. Serve each drink with an eye ball ice cube.
Tasty Halloween Treats:
Make easy Halloween Cupcakes. Purchase plastic spiders in the dollar store. After you frost the cupcakes, decorate them with a chocolate spider web. You can purchase black icing in the tube in the baking aisle of your grocery store. Then just place the plastic spider in the middle of the cupcake. If you're feeling ambitious, you can even carry out the theme of your jason voorhees costume and decorate the cupcakes to match. Or draw a scary face on the cupcakes. Candy corn can serve as pointy teeth on the face.
Everyone loves carmel apples. Simply melt carmel candies you buy in the store and dip them halfway into the carmel. You can dip the carmel in chopped nuts, too. Place them on a non-stick pan until the carmel sets and serve them on a plate with plastic eye balls, spiders and other bugs.
Decor: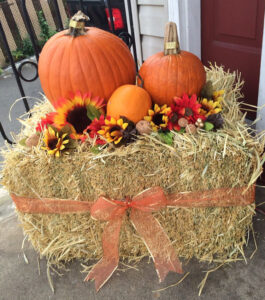 You can create a great Halloween atmosphere without spending a lot of money. Decorate the outside of your home with bales of hay you can purchase at any farm. Top the hay with mums and pumpkins. Tie corn husks around the columns of your house or flank the doorway. Dim the lights in your home or shut them completely. Place candles near each window to create a spooky aura. Play spooky organ music outside your door. Pop a cd into your stereo and put a speaker near the window. You can even switch some of your light bulbs to black bulbs for a subdued glow.
So, get ready for some fun this year!