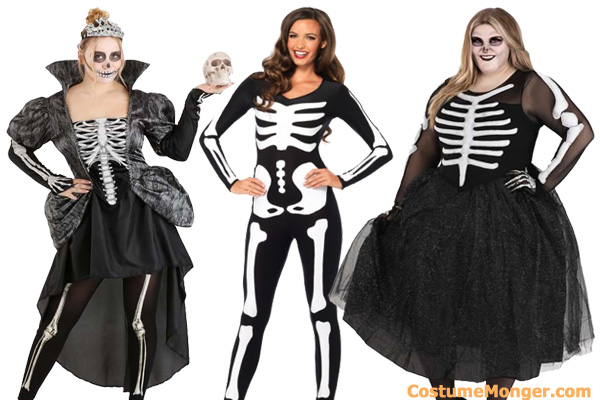 Don't fall into the trap of following current mainstream costume trends and not having a unique costume when you can wear a classic Womens Skeleton Costume. Skeleton costumes are what everyone really picture in their minds when they think Halloween, yet they are rarely seen anywhere anymore, especially on women. When you are out on the town, or at your next costume party you'll see enough superheroes, aliens, Barbies and celebrity costumes to make you sick to your stomach. Don't follow the popular trends this Halloween season. Be unique this year and wear a classic costume that can never go wrong on Halloween. Here are four reasons why you should buy a skeleton costume for this season of Halloween!


1. Each Womens Skeleton Costume is Affordable.
We all strive to have a great costume each Halloween. With that being said, we all also strive to find a high quality costume that is both great and affordable. Each of Skeleton Costumes for women is just that, high quality and affordable. Some womens costumes will cost upwards of 100 dollars. Sure those costumes may be nice, but it is only Halloween. All of our skeleton costumes for women are under 40 bucks, with some even less than 20! Don't forget to check out our mens and kids selection where there are also unbelievable prices.
2. Skeleton Costumes are Great for Family Memories.
Halloween is a time where family can get together and do fun things like trick or treating, haunted hay rides, and filling candy bags among other things. Any Womens Skeleton Costume can be paired with a Mens or Kids Version which makes going out in groups for Halloween Costume Parties or trick or treating a family occasion. Wearing a Womens Skeleton Outfit while your boyfriend or husband wears a mens skeleton costume would be great. And if you have kids, wearing a womens skeleton outfit, while your husband and kids are both skeletons would be even better! Think of all the fun and memories you would create dressed up the same. The memories and photos will last forever. Make it happen this year.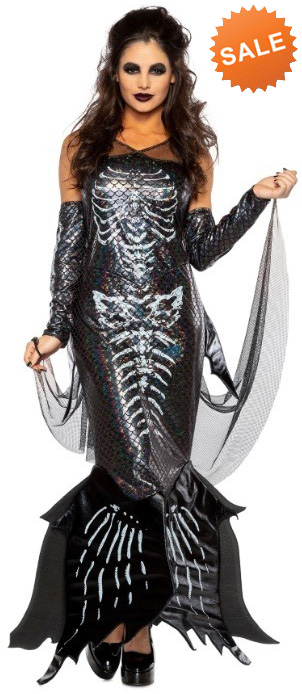 3. You can be a Skeleton and You can Still be Sexy.
A lot of women like to dress sexy for Halloween which is understandable. But many women think they can't dress sexy and wear a skeleton costume. That is simply not true at all. Many of our womens costumes are extremely elegant and sexy. Particularly check out our Bones Skeleton Dress. Here a woman can be a skeleton and yet flaunt her natural curves and sexiness just like she would in any other dress!
4. Our Womens Skeleton Costumes are Beautifully Detailed.
In Collection of Skeleton Costumes for Women we have some very beautifully detailed outfits. You probably don't think this when you think of a skeleton costume but it is true. Check out our Skeleton Bride Womens Costume. It involves a white crushed velvet dress decorated with an array of skulls and bones, a bride's veil, attached black lace, and a red cummberbund around her waist. This Womens Skeleton Costume has been around for years and its detail is not matched by any other costume!
The Skeleton is one of the first things that most people think of when they think Halloween. It is spooky and will be found on any haunted trail or in any haunted house. It is classic. That is why we truly believe that you or better yet you and your partner, husband, or other family member should dress as skeletons this season. Don't miss out on an opportunity to be a fun spooky costume and create wonderful memories for Halloween.