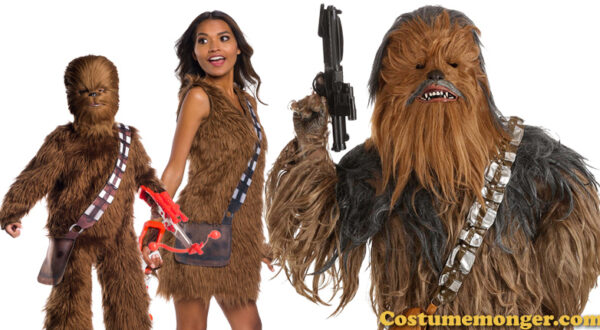 If you loved watching Chewbacca in the Star Wars movies, you should suit up as him and wear the ultimate Wookie cosplay! Straight from Kashyyyk, a Wookiee planet from a far, far away place in Star Wars movie universe, is the official Chewbacca cosplay costume! Dress up as the legendary Wookie from the big screen for Halloween. The movie quality of this costume will impress all of your friends on Halloween night! As you know, your favorite furry sidekick returned in the recent new Star Wars movie trilogy. You might even see Chewbacca back again in a new Star Wars TV series on Disney+!
Collector's Edition Chewbacca Replica Costume

A Star Wars movie superfan will want this authentic Chewbacca cosplay replica! This is not only great for Halloween but also for cosplay and sci fi conventions! This full body fur suit is suitable for adults in either standard size or x-large (XL) size which is very roomy for the big guys! An officially licensed Star Wars movie costume!

---
Super Deluxe Chewbacca Costume for Kids

If your kid wants a premium Chewbacca costume, this super deluxe child Chewbacca costume will impress all of their Star Wars friends at their next kid costume party! Available in small, medium, and large child sizes. This outfit also comes in adult sizes!

---
Talking Chewbacca Mask Voice Changer

Get your own talking Chewbacca voice mask if you want to add your own comedic twist to your Star Wars Halloween costume! All you need is a Chewbacca hoodie (see below) and you are all set for Halloween.

---
Chewbacca Hoodie – Wookie Jacket

If you don't want to wear a full costume, stay chill in this Chewbacca hoodie. This furry Wookie jacket with hoodie will keep you warm on Halloween or any Star Wars event.

---
The Collector's Edition costume is amazing as the entire outfit is covered in authentic fur so you will look just like a Wookie from the movies! Your friends can also join in by dressing up as other legendary Star Wars characters such as Chewbacca's loyal best friend Han Solo from Episodes IV, V, VI! You and your friend can bring intergalactic peace on Halloween night!