On May 1952, Hasbro put boxed sets of Mr Potato Head on the shelves of toy stores across America. Almost 70 years later, Mr Potato Head is still part of popular culture in America and around the world! If you want to pay homage to this classic children toys, get Laughs as Mr Potato Head or Mrs Potato Head This Halloween! They aren't just for kids anymore! Part of Mr Potato Head's success came from the computer animated movie series Toy Story where we got to see Mr Potato Head come to life as a character. These movies help revive the toy's popularity in toy stores and on Halloween!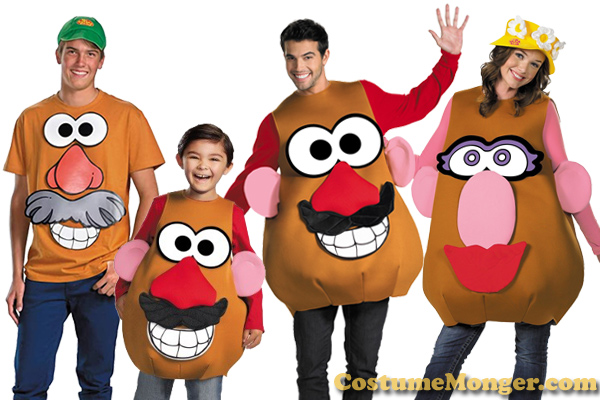 Mr. Potato Head has always been fun so now it's more fun than ever with these Potato Head Halloween costumes. With these outfits, you're sure to have. These costumes come in a variety all sizes and styles so the entire family can have a spud-terrific Halloween experience this year! People wear Mr. Potato Head costumes for a number of occasions. Some wear them to toy fairs or birthday parties, while others wear them to Halloween costume parties. This great costume can add to any event with it's originality and authentic design. Fortunately for fans, the Mr Potato Head costume is available not only in adult sizes, but also in child and toddler sizes as well.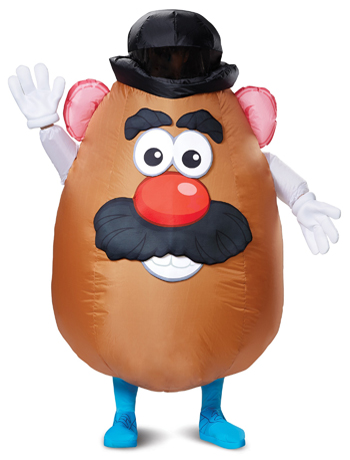 Your standard Potato Head costume includes a hat, eyes, nose, moustache, mouth…just like the plastic toy! There are also outfits with female eyes, female nose and female lips so your partner can go as Ms. Potato Head! This also makes these outfit perfect for a couple costume theme for Halloween. So we recommend going out as Mr. and Mrs. Potato Head on Halloween night when everyone on the street will turn and give you a big smile! You will be the center of attention of any costume party you go to this year!
If you didn't know, it was actor Don Rickles who was the voice of Mr. Potato Head in Pixar's Toy Story movie. The actor brought new life into the character, exploding his popularity among moviegoers! Rickle's memorable portray of Mr. Potato Head as a moody Playskool toy who was outspoken, sarcastic, and jealous character. Both kids and adults fell in love with the humor of this character. Don Rickles voiced the character for all four Toy Story feature movies. Toy Story 4 was produced in 2019 after the death of Don Rickles in 2017 but producers were able to use previous recordings and outtakes to cleverly bring the original actor's voice back for the fourth installment of the series!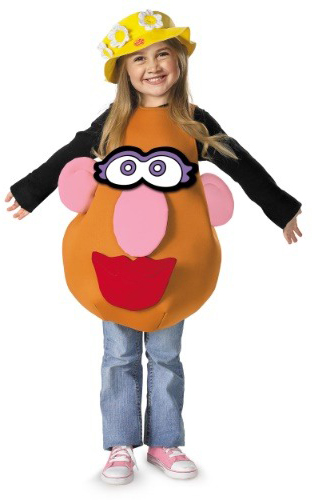 As for the toy itself, Mr. Potato Head has actually been around in 1949 before Hasbro mass produced and distributed the toy under its brand name. A man named George Lerner was a Brooklyn-born toy inventor who originally dreamt up the concept of this toy as a set of plastic molded accessories that were detachable body and face parts that could be inserted into real vegetables or fruits. A real potato became the ideal prop for these removable accessories, creating Mr. Potato Head! The toy became very popular during the 50s and 60s with many incarnations and spin offs. As new versions were added, face and body parts were created with such parts as tomatoes for ears, grapes for eyes, and carrots for noses, and despite what food were used, Mr. Potato Head was always hilarious. After a few years of success, a Mrs. Potato Head, a sister Yam, a brother Spud, and neighbors were added to the toy line. Each character had transposable parts for arms, legs, mouths, eyes, noses, ears, and hair. It doesn't really matter which nose, eyes, or mouth is selected, Mr. Potato Head will have a lot of fun at the party. So we hope you took at good look at the best Mr. Potato Head ideas for Halloween and find the one you want to wear at your next Halloween costume party this year!