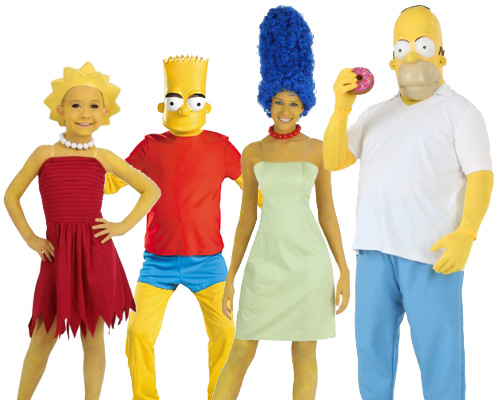 On September 30, 2018, Fox TV premiered the 30th season of the The Simpsons! This successful long lasting animated television series has marked a permanent spot in every household with its wacky and humorous commentary on American culture.  Everyone knows this normal family from Springfield with the most extraordinary antics and humor. Get to know the Simpsons family and all other equally hilarious characters in this phenomenal TV hit. The head of this family is Homer Simpson who is employed at the Springfield Nuclear Power Plant as a safety inspector, but notorious for his buffoonish and careless personality. Marge Simpson is Homer's significant other and a stereotypical housewife in America and mother to three children.  The eldest son is Bart Simpson: a 10 year old troublemaker.  Lisa is the second child known for her precociousness and activism in practically everything. The youngest child is Maggie and is the baby of the family. Although she rarely speaks, she humorously expresses herself with others through her pacifier.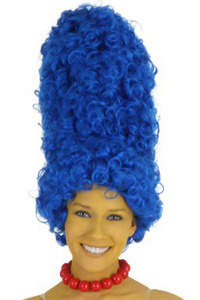 Marge Simpson is the serene mother of the Simpson family. She is the wife of Homer Simpson and the mother of Bart, Lisa, and Maggie. She is often described as a conventional television mother and is frequently on the top TV moms list. She was a former policewoman for Springfield PD who loves her children and husband so dearly.  Marge's trademark is her unique blue beehive hairstyle that was inspired by the style worn by Margaret Groening in Sixties and by The Bride of Frankenstein. This wig is very important if you want to disguise as Marge Simpson. Marge costume includes a simple green dress, red bead necklace, and red shoes. You should complete your Halloween costume with a blue beehive wig or with the latex Marge Simpson mask.
If you hate your job and just love to drink beer and watch TV, Homer Simpson costume will suit you best. He is usually dressed up in blue pants and white short sleeved shirt. He is fat and his hair is balding. For a perfect Homer Simpson look, consider buying his over-the-head hand painted mask.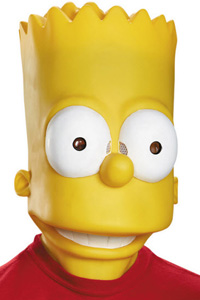 Bart Simpson is the contemporary Dennis the Menace who loves to prank his family and neighbors in his home town of Springfield.  This mischievous character is the eldest ten-year old son of Marge and Homer. Bart loves to ride his skateboard, read comic books, make mischief, and bug his sister. You can be like him when you wear a red shirt and a pair of blue pants. Carry a skateboard to complete Bart Simpson's look. For a more realistic and amazing Marge Costume, slip on Bart's full character mask.
Other characters include Akira the waiter and karate teacher, Ms. Albright the Sunday school teacher, Aristotle Amadopolis the owner of the Nuclear Power Plant in Shelbyville. Atkins, State Comptroller, Mary Bailey, Birch Barlow, Jasper Beardly, Benjamin, Doug and Gary, Bill and Marty, Blinky, Blue Haired Lawyer and Boobarella are likewise part of the casts.
If you are a vegetarian, dress up as the Simpson's second child in Lisa Simpson costume. The costume includes a simple red dress, a pair of red shoes, and a string of pearl necklace. Make your disguise complete with Lisa Simpson with her over-the-head mask that features a short and spiky blonde hair.  Don't forget to accessorize with a toy saxophone: her favorite instrument of choice when she expresses her love for jazz music.
If you have a baby, your little one can join the Simpson family when you dress her like Maggie Simpson in her trademark blue pajamas. Put a blue ribbon in her spiky hair and add a red pacifier.  The whole Simpson family is ready to go out trick or treating for Halloween and attend the Halloween party in Springfield!
You can also ask some of your best friends to join you in the celebration. Invite them to disguise as other famous characters from the television show such as the devious Mr. Charles Montgomery Burns.  He is the oldest resident of Springfield and the owner of nuclear power plant.  Mr. Burns head is balding and he usually wears a suit. Look like Mr. Burns in his latex hand painted mask. Steeple your fingers together and say the word "Excellent".
Let the owner of Moe's Tavern and local bartender join your Halloween party. Moe Szyslak always has a scheme in his mind and he is trying hard to catch Marge's attention. Moe has gray curly hair, and usually dress up in a pair of pants and shirt with white stained apron. Complete the costume with Moe's character mask that is made of latex.
You will need a host for your party, so better invite Krusty the Klown. He has his own Krusty-Lou Studios in Springfield and Krusty Burger fastfood chains. He is popular for his purple shirt, green pants, blue-green hair, and big red clown shoes. You can buy the Krusty the Klown mask or you may paint your face in white with a red nose.
With the costumes of Marge, Homer, Bart and the rest of the Simpsons family and friends' costumes for Halloween, you will have a hilarious and amusing party celebration. We hope you enjoy shopping for your favorite outfit and you will have a good time partying safely on Halloween night!

Original Simpsons TV show promo trailer from 1989 on Fox TV!