Get ready for a creepy and kooky Halloween this year! If you are a person who has a dark but humorous personality, you want to dress up as Wednesday Addams for Halloween! Wednesday is an eccentric, grim looking young girl, which is why this unconventional character will be the perfect Halloween costume theme for any lady. Wearing Wednesday's iconic dress will create smiles with every step you take! If you are a big fan of the show, the good news is that Tim Burton has teamed up with Netflix to release a new Wednesday Addams television series this coming November! The series centers around our favorite character Wednesday attending Nevermore Academy which is an academic institution that proudly nurtures outcasts, freaks and monsters.
Due to the early TV series, movie franchise, and animated movies, many styles of the Wednesday Addams' dress are available to fullfill any Halloween costume idea! Two actresses are famous for the Wednesday Addams role. Lisa Loring was the first to play the character in the 60s TV show. Christina Ricci played Wednesday in the Addams Family movies in the 1990s. In the television show, Wednesday is six years old, but in the movies, she was older. She is fascinated with death. She has a morbid and dark personality in the movies but is more of a pleasant character in the TV series. In the upcoming Netflix TV series, Tim Burton has cast Jenna Ortega as the newest Wednesday, now in her teens attending a private gothic school called Nevermore Academy!

The ominous, pig-tailed Addams Family daughter was created in 1938 but, like all the Addams Family characters, her name was a mystery and was not given one until the 1964-65 The Addams Family television show. The producers named her character "Wednesday" after the line "Wednesday's child is full of woe" from the Monday's Child nursery rhyme. Little darling Wednesday may look sweet and silent, but you'll feel creeps all over when you meet her. She always appears pale, sober and mysterious. She is the daughter of Gomez and Morticia Addams. She maybe full of woes and creeps, but she is also witty, winning against her brother Pugsley in a not-so-normal sibling game. Wednesday paints macabre pictures, raises spiders, and plays with headless dolls. The story behind her doll is that it's a Marie Antoinette doll guillotined by her brother. She loves her headless doll and carries it wherever she goes. She also maintains a close relationship with the very tall, ghoulish-looking butler, Lurch.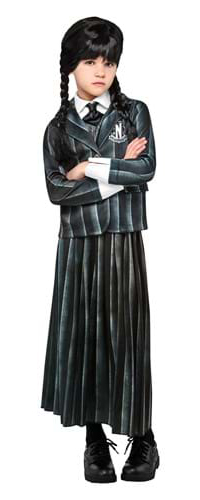 Why not wear Wednesday Addams Costumes this Halloween together with the rest of your family or friends? It would be fun to come as spooky beings from the popular Addams Family movie. Whether you are a child or an adult, you would definitely find an Addams Family costume that brings out sweet looks but spooky nature. The adult-size Wednesday Addams costumes let big girls become the morbid daughter, too. The regular costume is identical to the child's costume. It is a black dress that ends above the knee, has long sleeves with white turned up cuffs, a white collar, and a black belt with a large white square buckle. Available sizes are adult medium and large. This is a demure outfit, but with a gothic undertone to go with Wednesday's twisted personality. It can also be used for a pilgrim outfit. Shoes, tights and wig are sold separately. Feedback from others who have purchased this product indicates the quality of the product is not that fantastic, but it does provide the right look with the proper accessories.
The Wednesday costume is generally long-sleeved black dress with white collar, black stocking, black shoes and black braided hair to the sides. Children and adult women alike can easily get some Wednesday Addams costume ideas and wear the Wednesday look. Since this outfit is usually worn by seemingly dark and mysterious lads, you will find it difficult to get it anywhere other than the Halloween costumes stores. This costume is luckily sold at an affordable price and can be mixed and matched with some of your existing items like black shoes or black knee-high socks. But of course, if you want to get everything at once, simply click on the items and buy the complete Wednesday Addams Costumes in a flash.
Wednesday Addams may be a child, but adult women can also come to a costume party looking sexy and attractive, as well as spooky and mysterious, with the sexy Wednesday costume. To get the Wednesday witch costume women, grab the long-sleeved dress with white collars and an A-line skirt. The sexy Wednesday dress comes with a body fitted top that cuts at the middle. It is matched with an A-line skirt that ends a few inches above knee high. It has striped knee-high socks and black high heeled shoes. Complete the attire with a black hair that's parted to the side; with each side braided to the end. What about the Wednesday Addam's make-up? Simply use dark lipsticks and heavy eye make-up to get that spooky but sexy look. You can also add too much foundation to get that pale effect. If you don't want to wear extensive makeup, that will work too!
If you are an older woman who prefers a more mature costume, you can spice it up with the sexy Wednesday Addams dress for adult women. The Addams Family Sexy Wednesday Adult Costume comes with a (very) short slick mini dress. The vinyl material of this dress gives it that sexy wet look. It also includes a white lacey collar and adjustable garter straps around the hemline. You can also add extra accessories like knee high socks, tights, and boots. If you want a hairstyle like the character, her wigs are also available separately. Overall, the sexy Wednesday Addams costume has been well-received.
The Wednesday Halloween costume is not complete if you do not include the rest of the Addams Family with you. You can tell your mom and dad, or friend to come as the rest of Addams family member. They could be Gomez and Morticia Addams or Pugsley and Uncle Fester or even Cousin Itt!. It would surely be fun to reminisce the Adams Family as the creepy and mysterious beings of the earth. You can find other Addams family costume online or let them create their very own Addams costume ideas using items straight from their closet. To save time, they can buy other Addams Family costumes that are available from online stores.
You'll discover that wearing any of the Addams Family Halloween costumes is entertaining with the crowd. And you can add twists to your costume, you can make the adult Wednesday Addams costume a little sexier with the spookiness that can make the men howl. Halloween is going to be exciting this year. Wednesday Addams costumes are classic and still popular nearly 60 years after the original TV series premiered. When you dress up in a Wednesday Addams costume you will always stand out in the crowd.