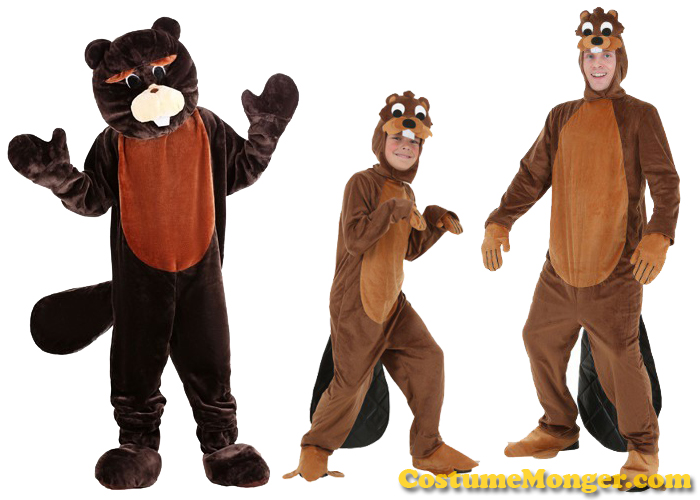 Are you thinking about a fantastic way to win over the hearts of everyone in your upcoming Halloween costume party? Instead of scaring your friends away in the usual ghoulish or monstrous Halloween costume, why not win the hearts of many by being cute and cuddly like the beaver! They are cute and cuddly, furry and chubby, and just simply adorable – these are the most distinctive and obvious qualities of the beaver. And because this lovely little animal is covered with a handsome fur, and that it is also chubby being the second largest rodent in the world, the mere sight of it can make anyone fall in love instantly.
Beavers are the cutest things especially if you see them on TV. But nothing can beat the appeal of the beaver especially if you wear it as costume for Halloween. The beaver costume is a great look for both kids and adults to wear but before you go running to the closest costume store it is important to know all the essentials that you need to cover to complete the beaver look. You have to have the beaver brown jumpsuit to really look like a beaver. It would be best if you get one that is furry and soft rather than just wearing a plain brown jumpsuit. Also, the darker the brown the better because it will really make you look like a beaver when you wear a darker fur like jumpsuit. Other than the jumpsuit, you also need a beaver mask or headpiece. There are many realistic looking headdresses while there are some that have a more cartoon like look. Choose the one that goes best with your jumpsuit to really achieve the beaver look. If you do not want a heavy headpiece the mask would work as well. Just make sure to have the beaver teeth to really look like a beaver. Knowing the essentials of the beaver costume is very important in completing the look. That is why now that you know what you need for your beaver outfit then it's time to complete the ensemble and be an eager beaver for Halloween.
The Best Beaver Halloween Costume Ideas
Adult Beaver Halloween Costume

---

Child Beaver Halloween Costume

---

Super Deluxe Beaver Mascot Costume

---
They are known as builders of the best dams, building their homes – call lodges – in or near the dams. They live in colonies and build dams to stop stream water and form a pond. This creates an area of deeper water that keeps the predators away, giving them an easier way to gather food floating down the stream. Beavers also have a wide spanning oval-shaped flat tail that is both bizarre and very intriguing. Beavers are nocturnal, working throughout the night to build their dams out of sticks, mud, stones, and whatever other kind of material they can find to build their dam. Generally, the lodge is upstream from the dam, and quite frequently, they have been able to build, or rebuild, their dams in one night.
In the latter part of the fall, they gather additional mud and put over their lodges before the first freeze which makes the mud hard enough to keep predators out when the pond freezes. The lodges are built from the mud and branches, and after it is finished, an entrance is actually dug into their home. There are generally two rooms to the lodge, one where the beavers live and the other to dry off from coming in from the pond. Usually between four and eight of these animals share the home, and quite frequently there are colonies of them that are built in close proximity. A beaver is quite the busy little animal and even though they are destructive to water flow in a stream, they are just darn cute.
These physical traits make the beaver one of the most favorite animals in the wild. And as a result, they have been the inspiration of many fiction characters and even used as a motif to adorn clothes, bags, accessories, and apparels. And with this kind of status, it is needless to say that Beaver Costumes will definitely be a hit on any Halloween Costume party or contest. Their cuteness that melts the hearts of people is definitely a weapon that cannot be underestimated.
But if you think that cuteness is all there is to beavers, you are gravely mistaken. They say inner beauty is more important, but beavers have got both physical beauty and inner beauty. When a beaver is faced with danger like a predator or a hunter, he will quickly escape by diving into the water and swim away rapidly. But the beaver is not content to merely escaping out of danger on his own.
As the beaver escapes deep into the water, he will start flapping his wide spanning tail against the water and create a noise that can be heard over great distances. This will serve as an alarm to the other beavers in the nearby area. This trait adds more points to the beavers' lovability. So if you want to really nail down that next Halloween Costume party, make everyone fall in love with adorable Beaver Costumes.
And if you think that about sums up the greatness of the Beaver, wait until you hear this. This cute little animal definitely does not fall short when it comes to intelligence. Beavers are the engineers and architects of the animal kingdom, and their work can put a proud construction firm to shame. These rodents have been building dams, water canals, and lodges long before humanity has learned to do so. And they can do all of this without going to college. All they need are their instincts.
And in order to give justice to the greatness of this usually underrated little rodent, the Beaver Costumes featured here are all well-made and used only high quality and high-grade materials. The level of workmanship they possess will surely make you gasp in amazement. And if you are pleased, there is no reason for the other guests on that upcoming Halloween Costume party not to be amazed. You will surely win the spotlight for best costume this Halloween, and even if you did not, the fact that you just stole everyone's hearts should be victory enough.
And to double, or even triple the fun, why not ask your friends to wear Animal Costumes as well? They can go for Gorilla Costumes, White Rabbit Costumes, Cat Costumes, and others. With the gang complete, you can now hit that party harder with an attack from the animal kingdom.