Fantasy and fiction story books portray gnomes as annoying little beings that mischievously run around gardens, creating much annoyance more than causing real danger or problems. Some stories illustrate these gnomes as wrinkly small creatures that look like over-aged dwarf that dress like toddlers. Some other stories say they are hyper little creatures that are no bigger than toddlers and have the same childish behavior as them too. Mostly of them depicted as mischievous but harmless curious little people. They find a certain sense of pleasure and satisfaction in annoying people and creating harmless chaos in the backyards of people's homes. After thinking about this, do gnome costumes generate the same reaction from people? A gnome costume represents the spirit of fun and mischief. They are portrayed as short, cute human like beings that live underground, possessing many tales of wonder, mystery, magic and mischief.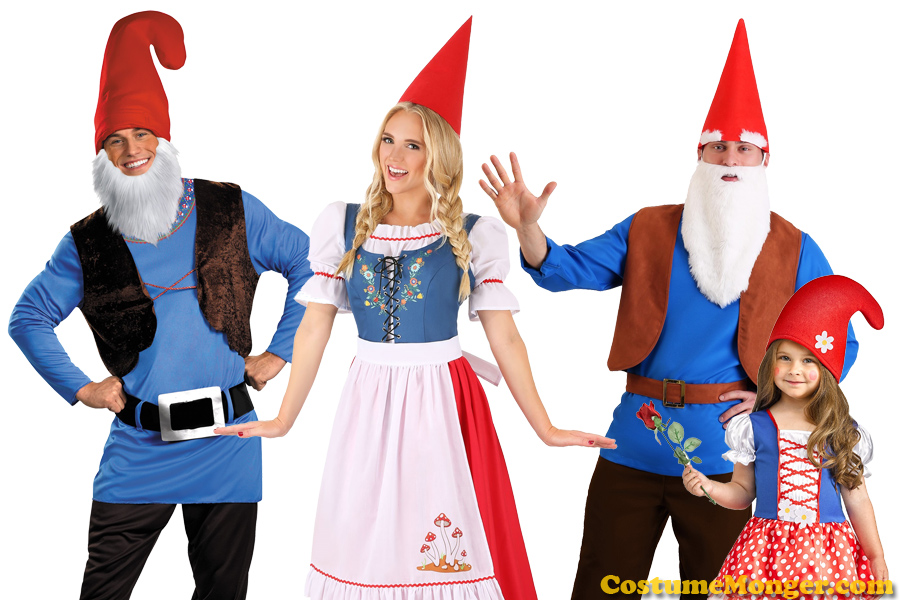 Some people do not even know anything about gnomes other than they look good in the garden. One thing is for sure, if you choose to arrive at a function or party in a gnome costume, people will not be looking at you and wondering "What are they wearing?" And of course, many people like the celebrate the story of the gnomes by having one in their garden for their homes.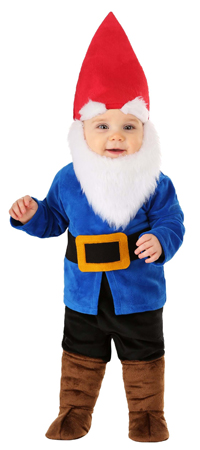 These days, many houses have gnomes standing on their porches or lawns. Some think they are just really cute to look at, while some think that maybe they can serve as little watch guards. The most common look of gnomes around the globe looks like a short old man with long white beard, a blue dress, a thick black belt and a red hat. Gnome statues usually just stand about the same height of an average man's knees. They do make cute yard decors, especially if you have a lot of them. Now imagine if they were moving, then that is way cuter, right?
The cuteness does not stop there. If there are toddler and kids' gnome costumes, then there is also a newborn gnome costume. Dress up that little one with this adorable outfit and let's see who can resist such a cute baby in such a cute costume! This costume features a bold blue tunic with a black belt with gold buckles as decoration. It also includes an oversized gnome hat with a facemask where all the white hair is attached. You do not need to worry though. This costume is not heavy at all. It is very light and not made of materials that might irritate your little tot.
Grown men can also have so much fun being a pesky gnome this Halloween. Match your baby's awesome gnome costume with the exact same look. The gnome adult costume comes with all the stuff that you need to look like one. How adorable would that be: a papa gnome holding a baby gnome. This sight will surely generate so much candies and praises!
A really adorable twist to the usual gnome look is this Garden Gnome Infant and Toddler costume. Instead of the usual blue tunic, this set features a cute black jumper with thick yellow straps. It also has an adorable long sleeved red and white plaid polo, a red hat with white eyebrows attached and a beard that will make your little one look like the cutest old man around. It also has red booties to complete this whole get-up.
The origin of gnomes has been assumed to have originated with a 16th Century Swiss alchemist called Paracelsus. Looking further into the origins of the word gnome in fact leads to a Greek word that means "earth-dweller" which fits with the characteristic of these being living underground. Gnomes have appeared in many a fairy tale since Paracelsus' account of them to today. In fact as far as present day tales go, you will most likely be familiar with the titles of the following fictional literary works, if you have not actually read or watched the movie adaptations of these stories.
The gnomes that were featured in L Frank Baum's Oz series. The author's most famous work from this series is "The Wonderful Wizard of Oz" which the Wizard of Oz movie is based upon. Then next we have the gnomes in C.S. Lewis' The Chronicles of Narnia book series. Furthermore, in J.R.R. Tolkien's Lord of The Rings book series, a race of Elves are called the Noldor were gnomes. You even see them featured in J.K. Rowling's Harry Potter series. So these wonderful creatures have inspired many characters and you will be in good company if you choose to attend a costume party dressed in a gnome costume, especially for Halloween!
In a way you could say that the modern garden gnome variety is like a parody of the original gnomes. The garden variety – which many of the gnome costumes are based upon, have a similarity that starts and ends with them being of small stature. The gnomes usually have a bright colored sweater, vest, or coat, different colored pants or trousers, waist belt, a domed or pointed fabric hat. And if it is a boy gnome, they often come with a fluffy white beard. This style in appearance of the gnome outfit is believed to have been influenced by the costume design of the dwarves in Disney movie Snow White and the Seven Dwarfs!
Another influence of gnomes comes from their Scandinavian name. In Swedish they are called "tomte" and in Danish "nisse." IN particular, the Swedish term "tomte" can be translated into the English word gnome. In Scandinavian folklore, these creatures have a more positive reputation as caretaker's that will protect a farmer's home and children from misfortune, particularly at night while the family is asleep. So they are almost like a lucky charm which led them into becoming the garden gnomes we see today. A gnome is an enjoyable and playful character to dress as at an Halloween costume party. Everyone at the party will know that you are a friendly soul that does not take life too seriously, enjoys the moment, and understand that well lived life should be fun. If you want to bring a good impression at a Halloween party, then go dressed in a gnome costume. Remember, Halloween lets you become whoever you want to be. The more ridiculous and sillier you appear, the more mischievous you are to people. The more creative your Halloween outfit is, the better compliments and praises you get on Halloween. Wouldn't it be nice to stand out with a unique costume with one of these unusual gnome costumes this year?