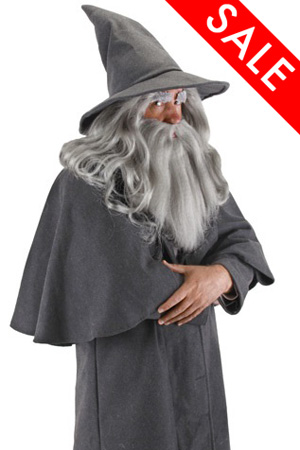 For Halloween, you can become anyone you want for one fun-filled night. If you are a huge fan of the Lord of the Rings movie trilogy, forget about being a plain and ordinary wizard because you want to dress up like the great and mighty Gandalf the Wizard! If you want to make the most of your upcoming Halloween party, a Gandalf wizard costume would be your best choice. Gandalf is the popular wizard character from Lord of the Rings, a successful movie trilogy derived from Tolkien's well-known book trilogy. If not for Gandalf's bravery, Frodo and his companions would have not succeeded in destroying the evil Sauron and protecting the lives of hobbits, elves, and humans. He is usually ranked as the most powerful and greatest wizard that was ever created in the world of fiction and magic.
So above is an example of a great high-quality Gandalf costume? If you have a smaller budget for Halloween, you can also find great bargains on regular Gandalf Halloween costumes and accessories. You can choose from regular and deluxe versions of this outfit and judge whichever appeals more to your tastes and budget. Regular versions do not contain white beards and white wigs. The only items included are a long gray robe, a wizard hat, and a medieval belt that you can put around your waist. If you are aiming for a complete Gandalf look, you should probably go for the all-inclusive deluxe package.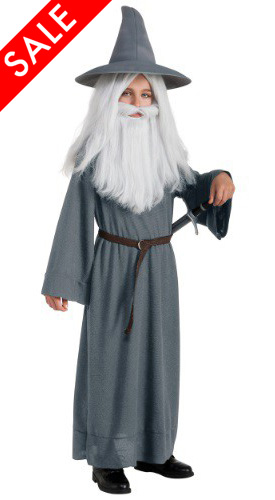 These wizard costumes from The Lord of the Ring and The Hobbit movies are not only for adults, they also come in children sizes! You can also spread the magic by giving your kids or nieces and nephews a wonderful treat by giving them Gandalf costumes for kids. Make them look like adorable but tough little warlocks who are ready to save the day with their great wisdom and magical powers. Add long, white beards and wigs to their outfit and convince them into becoming miniature Gandalf characters. You can even buy them mighty swords and wooden staffs to make them feel like superior and courageous Gandalf characters.
After purchasing your adult Gandalf costume, you can also do a few alterations or add a few accessories to come up with an authentic and unique look. Some of the accessories that you can also look for are brown pouches, skillfully crafted staff or scepters, and brooches with sophisticated details. Put magical items inside your brown pouch, and channel your mystical energies into your scepter or wooden staff. Upgrade your attire and get an air of medieval times with a sophisticated brooch that you can pin to your robe. You can also go with generic brands of the accessories if you aren't too picky about how detailed your Halloween accessories are. You can even recreate these replicas of these items if you are handy and artistic!. You can get your accessories anywhere you want. Just make sure that they look convincing enough to become a part of Gandalf the Grey's actual attire.
Of course, if you are going to a party with a group, the whole theme would look more appealing once you persuade your friends to become Frodo, Legolas, or Arwen for your costume party. Your Gandalf costume would surely catch more attention once you walk down your neighborhood with the complete Lord of the Rings Halloween crew! After wearing your Gandalf costume, do not forget to gently clean it and store it inside your closet. You can reuse it for another costume event, or add it to your Lord of the Rings collection. You can even dress up in it during make-believe play with your children while embarking on a legendary journey to stop the evil ring.
The Lord of the Rings Trilogy is one of the best movie trilogies that have ever been filmed. The movie has won several Academy Awards and has broken many box office records as well. It showcases different accolades, including the fact that it is also one of the most top-grossing movies during its time.
One of the best aspects of the trilogy is its cast of characters. The film trilogy has the most memorable and unforgettable people of all time. From its protagonists to its antagonists, all its fans are captivated by the different auras which each hero or villain displays.
And one of the most popular of all of these characters is Gandalf. This wizard was more commonly known as Gandalf the Grey, but after coming back from the dead, he was later called Gandalf the White. In the movie, he is the powerful wizard who will help the bearers of the ring to do what should be done with it.
This is why if you are looking for something interesting to wear on Halloween, then maybe you should go and pick this grand magical wizard from this famous movie trilogy. You can even go either as the grey or white Gandalf. Whatever be the choice, you can be assured that these Halloween costumes give you the look that you want! You will not regret being this great character, and you will surely have the most fun in it on Halloween night!