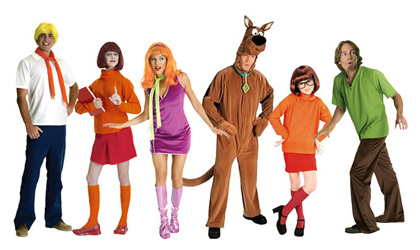 Halloween is that time of the year when we all can step in someone else's shoes for a night. When it comes to classic cartoon characters, which child wouldn't love to dress up as any one of the groovy characters from the famous classic Scooby-Doo cartoon or movie series? Loveable and clumsy, Scooby-Doo is treasured not only by children but also by adults, as he helps the gang called Mystery, Inc, solve mysteries, stop crime, and catch the villains. A full-size Scooby-Doo Halloween costume is definitely the best choice for your kid. As you know, Halloween is that time of the year when we all can step in someone else's shoes for a fun-filled night of partying or trick or treating. Though adults are no less excited about this season, children are the ones who look most forward to this season. Many children love to dress in as one of their favorite cartoon characters. When it comes to our favorite canine animated character, which child wouldn't love to dress up as the classic Scooby-Doo or one of his mystery-solving human friends? You have 5 different characters to choose from.
"Rooby-Rooby-Doo" is what Scooby Doo calls himself. But his groovy friends call him "Scooby". You'll look great in this Scooby Doo Halloween costume. You'll have a blast being in character when you suit up in this fun-loving adult Scooby-Doo costume and have lots of excitement. This outfit is a brown plush, one-piece costume that zips and has Scooby Doo's head as the hood. You may want to get some Scooby-Doo paws to complete your Halloween costume. You may want to have one of your friends dress as Shaggy, after all, he is Scooby's best friend. Don't forget that Scooby starts almost every word with an "R", so do the same and have fun with imitating the character!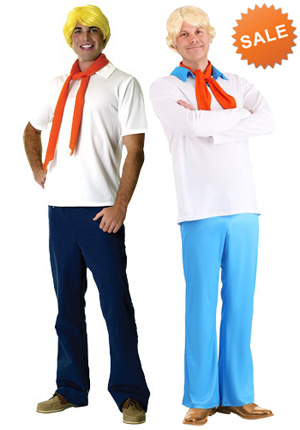 Be the leader-of-the-gang, in this super-fun Fred costume. Fred is one of the coolest Scooby Doo Halloween costumes because Fred is the leader and mastermind behind all of the plans to catch the bad guys. This Fred costume shows off how fantastic Fred really is. This must be why the girls are always around him. Or maybe it's because he tells them to follow him. Either way, Fred is a great costume for any attractive guy who has no problem getting the attention from the ladies. This Fred costume comes with his trademark white pull-over shirt, red scarf, blue pants, and a blonde wig. All you need to complete this outfit is your own shoes, and maybe recruit a couple of girlfriends to dress up as Daphne and Velma so you can recreate your own mystery-solving team!
Next is Scooby's far out and totally cool friend. In this Shaggy costume, you'll be a dead ringer for Scooby's best friend in this Shaggy Halloween costume. This totally clueless dude is one of the most fun Scooby Doo Halloween costumes to wear. It comes with Shaggy's green pull-over shirt, brown pants, goatee, and wig. If you ever wanted to be a hippie from the Sixties, why not be the free spirit Shaggy? To really get into the role, you should talk your best mates into wearing the other Scooby Doo Halloween costumes and you can go as the entire mystery fighting team.
So "Would you do it for a Scooby snack?" I say wear a Velma costume! There is so much more to Velma than meets the eye. She has both the brains and brawn. You too can recreate her trademark book smart look when you wear this Velma costume. This is one of the Halloween Costumes that looks great on almost all women. This super-cute Velma costume comes with her iconic retro black-rimmed glasses, orange turtleneck sweater, cute red skirt with elastic waistband, orange knee-high socks, and brown wig. All you need to complete Velma's outfit is a pair of red Mary Jane style shoes.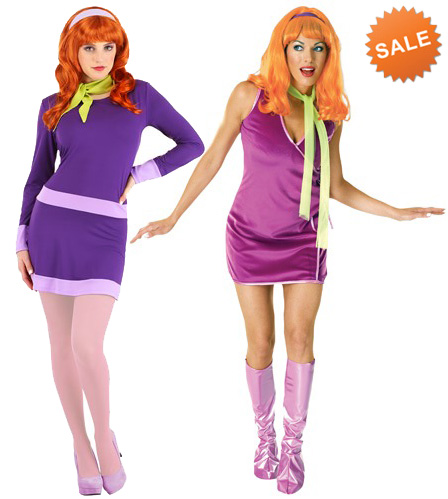 The Scooby-Doo team calls her "Danger-prone Daphne!" You too can be the "damsel in distress", when you show up to the Halloween party wearing this great Daphne costume. This is one of the most colorful Scooby-Doo costumes out there! This Daphne Halloween costume comes with a stretchy Jersey knit soft purple dress, pastel green scarf, and lilac headband. You can go as either the movie version or the classic cartoon version! This Daphne Halloween costume is sure to make the guys at the party turn their heads, stand up, and say hello!
If you are searching for a Halloween costume that is not scary or repulsive, then the right one for you is one of these family-friendly costumes. The Scooby-Doo costume's full-body ventilated suit is available in different sizes for adults and kids. While this one is the most popular, you and your friends can also dress up as the Mystery Machine crew members Shaggy, Daphne, Velma, and Fred. If you have a little pet dog, then you can dress it up as Scrappy-Doo and have a great time. Now all you need to do now is find an old van and paint it psychedelic colors with flower power imagery then you and your friends can drive around town in your own mystery mobile!