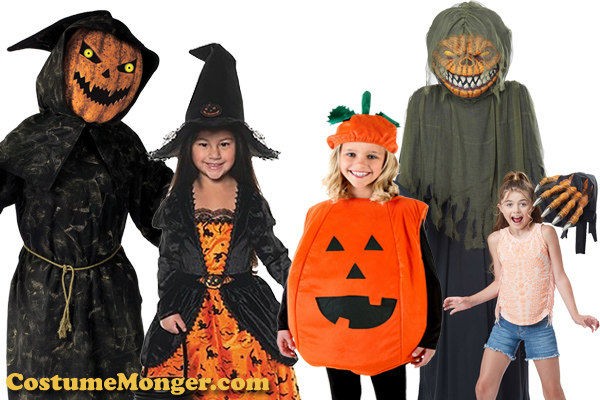 When autumn comes around, people think of colorful trees and Halloween! Halloween is one of the most anticipated celebrations every year when we see people wearing creative costumes, carving pumpkins into scary Jack-o-Lanterns, sending their children out to do some trick or treating, visiting haunted houses, and most of all, going to Halloween parties in their favorite Halloween theme outfits! Can you imagine a season without pumpkins or costumes? If you really want to get into the traditional spirit of Halloween, why not dress up as a Halloween pumpkin! Adults enjoy celebrating this yearly tradition as much as the children do so we found the best pumpkin costume for both kids and adults! Even girls will be surprised by how cute pumpkin costumes can be!
The Best Pumpkin Costume Ideas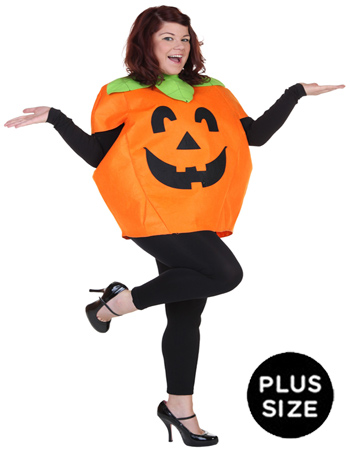 The Jack o' Lantern is the perfect way to celebrate Halloween. As you walk by through your neighborhood on that night, you can see good old Jack o' Lantern lighting up the lawn better than anything else during Halloween. As you know, these carved pumpkins just don't end up there by themselves. A creative person was behind putting old Jack on your grassy lawn. You can take your creativity up another step by impersonating him by wearing a Pumpkin Halloween costume. Originally, the story of the Jack o' Lantern came from Ireland hundreds of years ago. It's the story of how an Irish man named Stingy Jack outplayed the devil a few times by fooling him, forcing him to settle to an agreement with the clever Jack. The agreement was that the devil was never to come after Stingy Jack's life and take his soul. When Stingy Jack eventually died, the Heavens did not accept him for making a deal with the devil and in turn, Hell refused to except him as well, leaving Jack in limbo between life and death.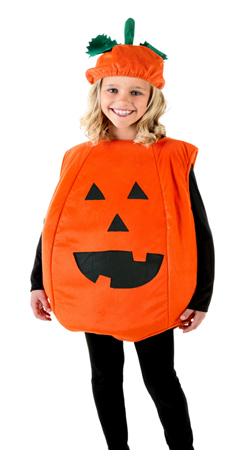 We hope this dark tale of Jack doesn't distract you too much from finding the right costume. On a lighter note, you know that small children always look adorable and cute in a pumpkin Halloween costume. What would look even cuter would be to dress them up as little walking Jack o Lanterns. You will be amused to see your adorable children strolling around in the neighborhood as plump, little orange pumpkins with scary faces. Even better, you can find pumpkin Halloween costumes that allow them to light up like the real thing, without the use of real lit candles or fires of course! Imagine your kids lighting up the streets as they go trick or treating door to door. Also, just think of how the faces of the people in your neighborhood would also light up with happiness upon seeing your little pumpkin kids going trick or treat for candies. When it comes dress up as fun and silly characters, Halloween isn't only for the kids. Adults can get into the fun of dressing up like a pumpkin or a Jack o'Lantern!.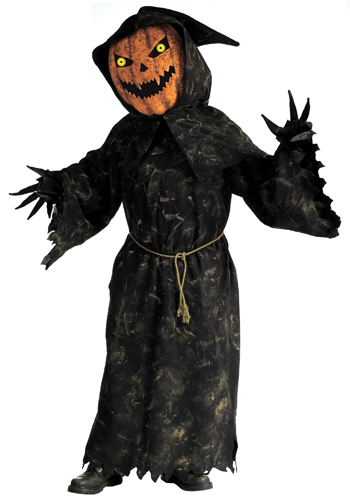 The pumpkin Halloween costumes for adults can be absolutely hilarious or extremely scary like the creepy Bobble Eyes Pumpkin Costume or the Towering Terror Pumpkin Costume for Adults. If you want a more comedic look, try the fat inflatable pumpkin costume. People will laugh as you try to bobble around the crowd in the inflatable outfit! With glowsticks and flashlight accessories, you can make you costume glow in the dark on Halloween night! I you prefer to go and walk around as a scary Jack O Lantern, you can look for a scary pumpkin head mask and dress yourself up in the most ghoulish black robe…making yourself into a pumpkin monster and grim reaper hybrid! Add more to the terror of your outfit by adding eerie red lights inside your pumpkin mask to add some light effects to your scary costume!
Returning to the story of Stingy Jack…the cursed was left to be lonely wandering in the dark with light from a burning coal inside of a carved out turnip. From then point, Stingy Jack became to be known as "Jack of the Lantern" which later became Jack O' Lantern. And the story of the lit carved turnip morphed into a lit carved pumpkin, becoming the modern day Jack O'Lantern! From this point on, these pumpkins with carved faces have become a integral part of Halloween decorations around the World. So the tradition of carving up your own Jack o' Lanterns also become a fun family activity for Halloween!