There are so many wolf Halloween costumes out there. So you must be wondering if there are any good Big Bad Wolf costume ideas? Of there are! The big bad wolf was originally from the Little Red Riding Hood storybook where the little girl travels to her grandmother's home where she finds the Big Bad Wolf disguised as her granny in attempts to eat her. So the story is common for school plays for youngsters or as a funny costume for adults. These Big Bad Wolf Halloween costumes are available for both kids and adults.
Scary Big Bad Wolf Costume

Little Red Riding Hood better hide when this big bad wolf pops out! This woof costume will definitely scare everyone at your next costume party for Halloween! It features a full wolf mask, fur jumpsuit, wolf gloves, and feet covers.

---
Storybook Big Bad Wolf Costume

If you need a less frighting wolf costume, this storybook version will be friendlier for the kids! This comical take of the big bad wolf from Little Red Riding Hood will bring on smiles instead of terror at your next Halloween party!

---
Grandma Big Bad Wolf Costume

Remember when the Big Bad Wolf disguised himself as Little Red Riding Hood's grandmother? If terror and comedy is more your preference for Halloween, this costume is a comical take on what happened to Grandma after being eaten by the Big Bad Wolf!

---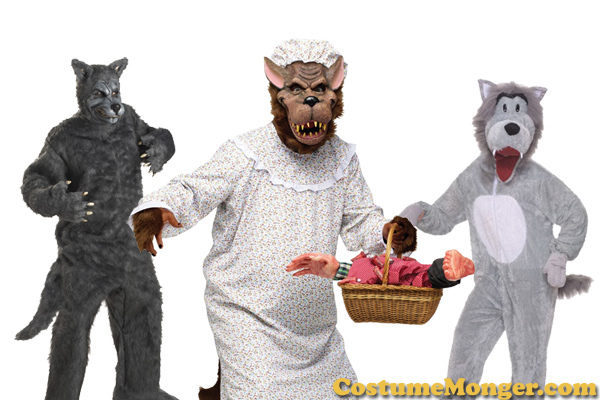 With there being so many wolf costumes available in the market, which one is worth opting for? One that has recently caught a lot of attention amongst the adult market is the Big Bad Wolf Adult Costume. We recommend it this year. These wolf costumes were initially only available for children. The costume is known to be a hand full in it self. It is known to include the coat, arm cuffs, hand pieces and head piece as well. The entire costume pretty much completed the entire costume excluding the pants of course. The material used for this costume is polyester meaning it can be washed. Due to the popularity of the character today, anybody can find one to wear for this Halloween season!