Sometimes it's difficult for couples or partners to agree and decide on a great Halloween costume theme that they can go together for their next costume party. Instead of thinking about today's popular superheroes or celebrity couples on the Internet, you should take a look back in time and go for a classic or infamous couple like Bonnie and Clyde. If you remember, the duo were the notorious bank robbing couple from the early 1930s that have been romanticized in past books, comics, television and the movies. If you and your partner decide to suit up in a Bonnie and Clyde Halloween costume, you come to the right place because we found the best Bonnie dresses and Clyde gangster suits! Before we go into the outfits and attire, we should take a brief walk down memory lane and discuss this couple. Bonnie Parker and Clyde Barrow were the ultimate in style, danger and romantic glamour in the 1920's and when you take a look at these Halloween costumes you can see why.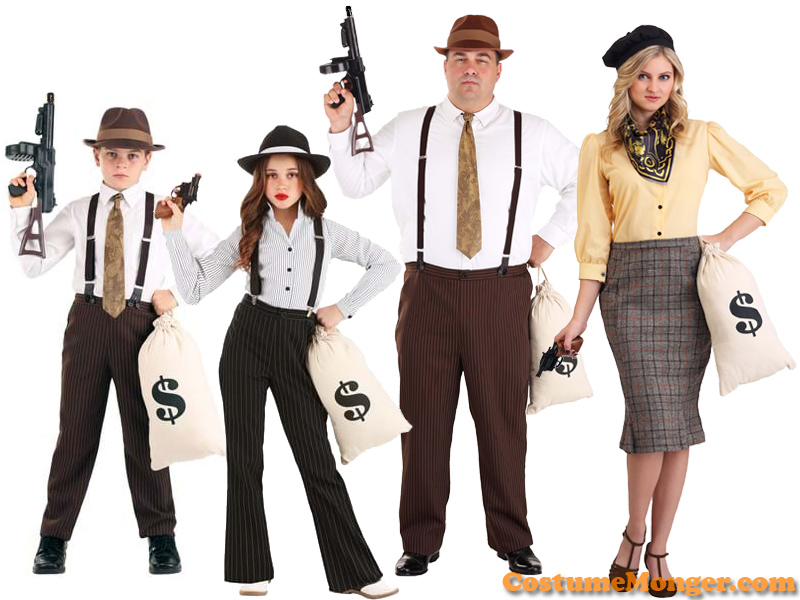 Women dressing as Bonnie have several options – the pant suit or the skirt and jacket, all teamed with her trademark beret. Men dressing as Clyde should favor a pinstriped suit, wingtip shoes and a fedora hat. These costumes are sexy and great fun to wear, and they are perfect for anyone of any size. For a sexy Halloween Bonnie look why not go for a fitted pinstriped jacket and tight skirt to imitate the bank robbing girl everyone wanted to look like. With a mixture of sex appeal and danger, the Bonnie outfit it is bound to be one of your favorite costume ideas. Go heavy with the makeup and make the eyes dark and the lips bright for the most effect. Bonnie was the ultimate woman of the 20's and she worked the look with ease, and so can you with the right costume and make up combinations.
Men wearing the long jacket in pinstripe will have the Clyde look down to a tee. To really get the gangster look the jacket needs to have sharp lines and be doubled breasted to go along with the fashion of the day. Add a freshly pressed button-down shirt underneath for the maximum in gangster chic and you will see why Bonnie was so attracted to this seriously sexy gangster look. Add to this a fedora hat at a sultry angle and a toy gun or two and you Halloween costumes will look perfect.
The gangster's moll was probably one of the deadliest characters of the Twenties and Bonnie was this all over. With more than just a hint of danger Bonnie dressed to impress even when they were on a heist, so it's no wonder that so many people used to mistake her for a film star. Get the look yourself by picking the gangsters moll costume which is a little shorter and more daring than some of the other suits, this Halloween costume is ideal if you want to create a sexy and sultry impression this Halloween.
Any couple who wishes to recreate the style of Bonnie and Clyde for the Halloween costume ideas will have no difficulty in finding the right outfit and accessories. They come in many different styles and suit all sizes. If you add an accessory or two, you can really bring a costume together, so try experimenting and see what you can come up with. Therefore, for all the couples out there who wish to have some Halloween costume ideas that are exciting, stylish, and fun with more than a hint of danger, suit up in the Bonnie and Clyde costumes for your next Halloween party!
If you want to learn more about the history of Bonnie and Clyde, let's take a look into the background of Bonnie and Clyde. The duo of Bonnie and Clyde are without a doubt two of the most well-known criminals in American history. Their crimes were committed between the years 1931- 1935 and they have been responsible for around twelve bank robberies, at least thirteen murders, and untold number of hold-ups in the United States. Bonnie was born Bonnie Elizabeth Parker on 1st October 1910 to a family in Rowena, Texas. Bonnie suffered tragedy early in life when her father died at the age of four. This unfortunate event led to her mother moving her to Dallas to experience a life of extreme poverty. Against all odds, Bonnie still managed to do well in school. Also being both charming and attractive young girl helped her socially in life. When she was only 15 years old, Bonnie married a man called Roy Thornton in 1926. However, this marriage did not last long, separating permanently in 1929. The divorce, however, was never finalized. In 1930, while visiting a friend's home, Bonnie first set eyes on Clyde Barrow, the man who would become her partner in crime.
Clyde Chestnut Barrow was born on 24 March 1909 in Ellis County, Texas. He also grew up in a very poor family. Clyde was the fifth child of seven children. He had already ventured and fallen into the world of crime after being arrested in 1926 for car theft. By the time he started seeing Bonnie in 1930, Clyde had committed a large number of robberies around the Dallas in Texas. After first meeting Bonnie, he was arrested for one of his crimes and offenses then sent to prison. Bonnie by this time was already deeply in love with Clyde and she plotted and schemed to smuggle a gun into the prison in order to help Clyde successfully escape. This led to the Clyde committing more crimes and being arrested shorty after his escape, returning back to prison.
On February 1932, Clyde was released from prison, but rather than see the light and go straight, Clyde became even more determined to live a life of crime to get back at society! He made one vital difference, recruiting his love Bonnie to become his partner in the robberies. They couple failed their first crime which involved a botched car theft that led Bonnie to being arrested and sentenced to jail. Bonnie was released in June of 1932. After reuniting, the couple went on to commit more crime, becoming more notorious. Some believe that after killing two police patrolmen in Texas on April 1934 and killing again five days later in Oklah, the couple became even more arrogant and began to believe that they were untouchable. The pair had managed to evade the law for so long that they believed that they would be able to continue their crime spree forever. However, their fate finally caught up with them. It was only a matter of time before Bonnie and Clyde would feel the full force of the law enforcement. On May 23, 1934, their car was spotted on the back roads of Louisiana. A shootout ensued between law enforcement and Bonnie and Clyde, firing endless shots of one another. Many policemen were injured during the shoot-out and at the crime scene, Bonnie and Clyde were both fatally shot. At the time of their deaths, Clyde Barrow was 25 years old and Bonnie Parker was 24 years old. After their deaths, Bonnie and Clyde's story became romanticized into a love story filled with danger. Their criminal activities were sensationalized in the media, portraying them as a young loving couple trying to escape the American depression. Their stories have been adapted into several books, songs, and films in popular culture. Many people remember the classic 1967 film starting Warren Beatty as Clyde and Faye Dunaway as Bonnie.