What animated "Stone Age" family can inspire creative Halloween costume ideas than the famous and comical Flintstones? Round up the entire family or gather your buddies and dress them up with Flintstones costumes for your upcoming costume event or even prepare as early as now for the Halloween event this year. There are costumes inspired by both the classic cartoon television series and live action movies! This traditional family is led by Fred Flintstone is a husband, father, and friend that lives life by his catchphrase — yabba-dabba-doo! Created by Hanna-Barbara and originally airing from 1960 through 1966, "The Flintstones" is still wildly popular franchise in syndication, feature film adaptations and as a character in advertising – and of course, Halloween costumes. Here, we are going to review some of the most popular Flintstone costume ideas available online for 2022! If you want to be Bedrock's most famous inhabitants, take a look at the costumes below to get you started. These costumes are inclusive of the signature items worn by each character. Click on any link to see even more great Flintstones outfit!
Flintstones Halloween Costume Ideas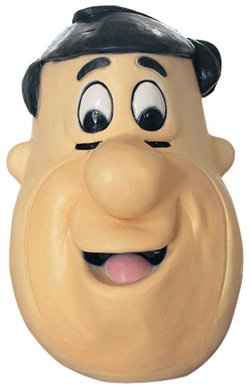 Be literally the head of the modern Stone Age family in this Fred Flintstone mask! If you need more than the Fred mask, you can also buy the entire costume get up! The Fred costume ensemble is composed of the orange with black spots tunic and oversized ragged blue tie. These outfits have Fred's signature orange with black coat with attached collar, matching cuffs, blue neck-tie, black wig and bare feet shoe covers. You'll have a "yabba-dabba-doo!" time in this fun outfit. All you need now is to have Wilma accompany you.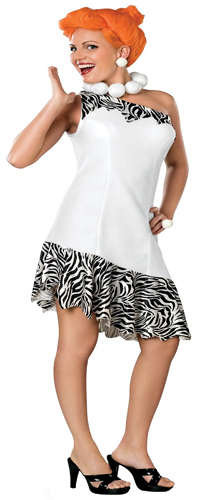 If you're going to head out on the town on Halloween night, have a date dress up as Fred's better half, the fashionable Wilma. A Wilma Flintstone costume features a one-shouldered, fake animal hide dress, attached large "stone" necklace and her signature bright orange hairdo. The Wilma costume is comprised of a simple white dress with ragged edges, plush stone-looking necklace and foam red headpiece. The Pebbles look, either for adults or kids, consists of the pink with black designs sleeveless shirt and shorts or skirt and the bone-adorned red headpiece. However, for the toddler version of the Pebbles costume, it is usually a jumpsuit with attached shoe covers so that the kid would feel protected and warmer. This jumpsuit already has the skin tone arms, legs and exposed tummy plus the pink clothes.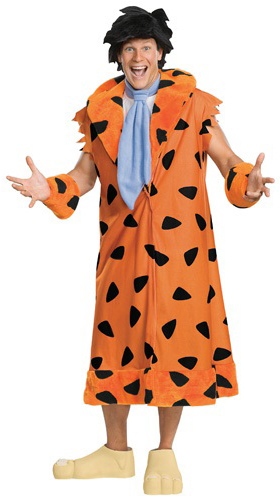 Although the Flintstones Family is the star of the animated series, we can't forget about their neighbor and best friends, the Rubble family! Barney and Betty Rubble were neighbors to Wilma and Fred Flintstone, and Barney Rubble costumes would be a lot of fun for a Halloween costume party. Barney and Fred grew up close friends and has many misadventures together. His personality was based on one of the characters from The Honeymooners show, as the happy-go-lucky best friend who was always drawn into different get rich quick schemes that Fred concocted; resulting in Betty and Wilma having to come bail them out of their latest jamb.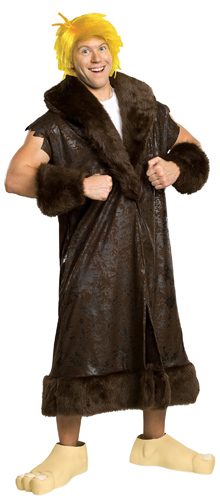 Barney played on a bowling league with Fred, and they were members of the Loyal Order or Water Buffalos together. But Barney's isn't just known as Fred's goofy likeable best friend and next-door neighbor. Barney has his own unique talent that helped him step outside of Fred's shadow. Barney Rubble played the drums and the piano, as well as marrying a beautiful brunette named Betty. The couple were were married shortly after Fred and Wilma were married and they adopted a son who was named Bamm Bamm. Barney and Betty had a lot of fun over the years with their best friends Fred and Wilma. Going to the Halloween party as Barney Rubble would ensure everyone had a yabba-dabba-do good time!
"The Flintstones" chronicles the prehistoric life of Fred Flintstone, a hard-working rock quarry employee that just wants to come home and enjoy a Brontosaurus steak served up by his pretty wife Wilma. He also enjoys bowling, pool, poker and just lounging about his Bedrock home. An interesting piece of Flintstone trivia is that studio execs-based Fred's personality on the Ralph Kramden character from the 1950s show, "The Honeymooners." The humor of "The Flintstones" is premised on two main gags. First, the (fictional) fact that there are caveman people co-existing with dinosaurs in the prehistoric era and second, the contradicting "conveniences" that the Flintstone characters incorporated into everyday life such as foot-powered cars, wooly mammoth dishwashers and an automatic razor made with a clam shell vibrating with bees!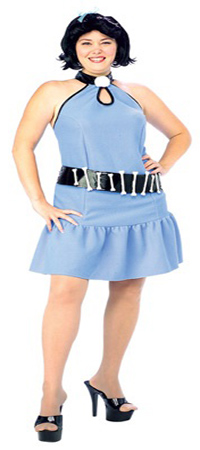 If you caught these cartoon episodes the first time they aired, you might have seen some of the commercials Fred was a pitchman for such as Winston cigarettes and Yabba Dabba Dew juice drink. Today, Fred's mug is still grinning on the Post Pebbles cereal boxes! Fred's been on the big screen, too. In the 1994 live-action film, "The Flintstones", John Goodman played this larger-than-life character whose loudmouth and scheming ways are the center of the plot.
You'll go down in pre-historic history sporting a Fred costume at Halloween or birthday party. In sizes to fit toddlers, children, teens and adults, Fred costumes are designed with a cartoon-like flair that features faux animal skins, fake bones and other stone age accessories. Fred rules as king of his cave wearing a bright orange coat printed with faux animal markings – perhaps saber-tooth tiger? Add lots of laughs to your Fred costume with a highly stylized Fred wig and huge "foot" shoe covers (because the Flintstones always went barefoot). For special events, Fred also occasionally wore a very wide tie and, when going the lodge, a furry blue hat punctuated by horns.
These costume ideas are great for couples as you can go as Fred and Wilma or Barney and Betty and if you have some extra friends who want to tag along they can go as adorable little Pebbles or Bamm Bamm. Have some fun this Halloween in your very own amazing Flintstones costume.