If you enjoyed Tim Burton's classic stop-motion-animation movie Corpse Bride, Halloween is your opportunity to express your love for the movie by wearing the iconic Corpse Bride dress at your next costume party and steal the hearts of the Burton fans. Follow the slogan, be the life, or death, of the party. The Corpse Bride Halloween costume is pretty in an untraditional and morbid way. The outfit consists of a white and grey dress with lace and ribbon detailing. And you can't forget about Emily's veil without which a bride should not be seen dead. A red and black rose bouquet will enhance the character of the costume. The story of the Corpse Bride tells the tale of a young girl that was murdered by her fiancé on the day she was supposed to get married. Despite its morbid beginnings, the tale turns into a fantasy love story crossing between the realms of the living and the dead. So as Emily, the Corpse Bride, you will capture this spirit of Halloween in her costume!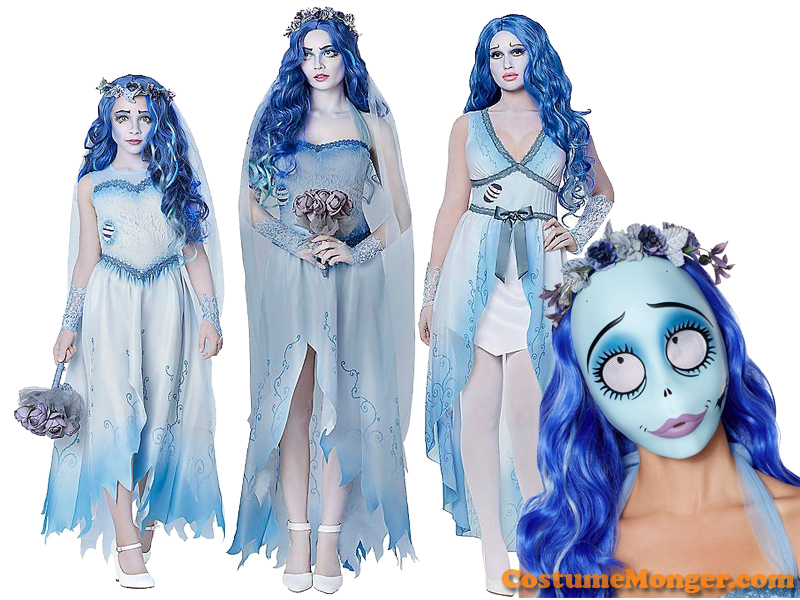 The Corpse Bride Costume is not just a fancy dress outfit or a standard Halloween party outfit. It ranges from being completely fairytale like to an awesome fashion dress which is available as either the Corpse Bride Adult Costume and the Corpse Bride Child Costume that features the iconic one arm covered with material with a skeleton arm painted on it.
New Corpse Bride Emily Costume Dress for Women
Some dresses are short while others are long wedding dresses. A veil may be attached. You may have to buy a wig separately. The corpse bride costume plus size have more room for women that are still alive and not emaciated after spending time in the underworld. You may not want to really be as bony as the corpse bride when you go out to party! These outfits resemble the dress that was worn in Tim Burton's Corpse Bride, a fantasy film that is based around an old folktale, set in England. The main character, Emily is voiced by Helena Bonham Carter. Suitably tattered in a stylish yet decrepit way, there's some real mystery and just a tinge of horror accompanying this costume. Little touches like the above, and also the see-through piece of skeleton rib painted on the side of most of the outfits in the range really set this costume apart.
If you are creative and have some spare time, you can consider creating your very own Corpse Bride Halloween costume!
First, all Corpse Bride Halloween costume ideas begin with a wedding dress. It can be old or new, in any condition. Thrift stores often have them for around twenty dollars. Ideally, the gown should be strapless and have a long skirt with a slit, but this isn't mandatory. Once you have a gown that fits, cut a hole in the side of the chest. Make sure the hole is large enough that your ribs can be seen. If there is no slit in the front, you will have to cut there as well.
Second, you will need a Corpse Bride wig and a bridal veil. Using temporary hair color is not a good idea, because it will rub off on the white dress and ruin the effect. You can either buy a blue and white wig at a Halloween store or make one yourself. You can use yarn or even tinsel for this purpose. The veil can be bought at the same thrift store as the dress, although you can hot glue white ribbon and tulle to a headband if nothing more suitable presents itself.
Third, you will need makeup. Corpse Bride costumes should have a pale blue face with deep shadows in the cheekbones and under the eyes. Simple Halloween makeup will be sufficient for this; just make sure to keep from getting it on the dress. Heavy eyeliner to make your eyes appear rounder as well as dark red lipstick will complete your look.
Last, you will need to create the look of bones where Corpse Bride is rotten. These areas include the rib area where you cut a hole earlier. The Corpse Bride also has a rotten right leg and left arm. Simple white makeup for the bone and black to create negative space should create a good effect.
As you can see, a Corpse Bride dress can be made but if time is short or you honestly don't have the patience or materials to make one, we recommend that you shop for a outfit that is ready to be worn! Save yourself the stress of making our own costume for Halloween and buy one instead so you can focus on having fun on Halloween night! Take a look at the many Corpse Bride costume ideas designed to help you become the most beautiful dead bride anyone could ask for this season!