This year Easter is on Sunday April 9th so we have just under two weeks to get ready for the holiday! One of the most iconic character for this holiday is the Easter Bunny! Kids, most especially are often seen wearing the cute fluffy rabbit costume while they are hunting for the Easter egg. Busy parents would usually take time out to purchase their little ones with these adorable bunny costumes. However, if you are a stay-at-home-mom, then you can actually make your child an Easter bunny costume yourself. Aside from being more economical, your personal touch would certainly make the costume in itself more unique and special compared to the bought costumes. Besides, you can also use this time to bond with your kids.
So, how to make an Easter Bunny Costume? That is the ultimate question. First you have to know the key elements that a bunny costume has. Typically, it should be white in color, with pink details on the belly part, a fluffy tail and of course a pink outlined white bunny ears. After that, you must gather up the things that you need to have or use prior to your project. Which includes white sweatpants and a white sweatshirt or white long-sleeved overalls, a head band, white yarn, cardboard, fiber fill, pink and white craft felt, double-sided fusible, embroidery needle and pink embroidery floss and pipe cleaners. You can also use glue gun as an alternative to the fusible and the use of sewing machine is optional.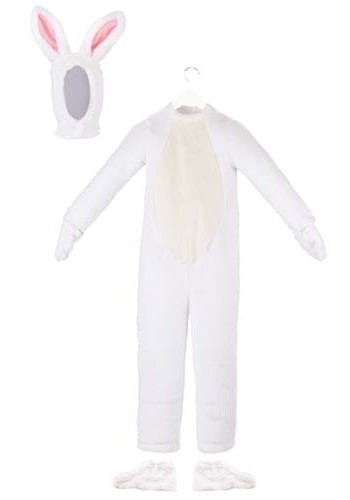 1.) First, make an oval bunny belly out of the yellow or pink fabric or felt paper. Attach it to the front part of the shirt.
2.) Second, using the two old shirts, make a round bunny belly by stuffing the sandwiched shirts with fiber fill. Then, sew the round belly underneath the sweatshirt and the pink belly portion.
3.) Third, get the pipe cleaners and place them inside the white felt ear cutouts. Embellish with pink embroidery floss to create a pink outline for the ears. Attach the ears by whip stitching them to a headband.
4. ) For the tail, you can use a white ball of yarn or you can use the cutouts from the old shirt formed into a ball stuffed with fiber fill. Glue or stitch the tail to the seat of the sweatpants.
5.) You can complete the attire with white gloves, white sneakers and face paint; for whiskers and bunny nose. Make sure that all parts are glued or stitched properly. You can accentuate by adding pink buttons, pink neck ribbons, etc. You don't have to buy new materials; you can search the house for old items that you can use.
If you are really busy and you are pressed by time, ready-made Easter bunny costumes are available on the internet. Just log on to your preferred online store or just key in Easter bunny costume on the search bar and you will definitely find the perfect bunny costume for your little darling. Hopping in to the nearest retail or costume store would also be a great option.
Once you have the Easter bunny costume ready, you can now prep up your little angel for the Easter bunny egg hunt.