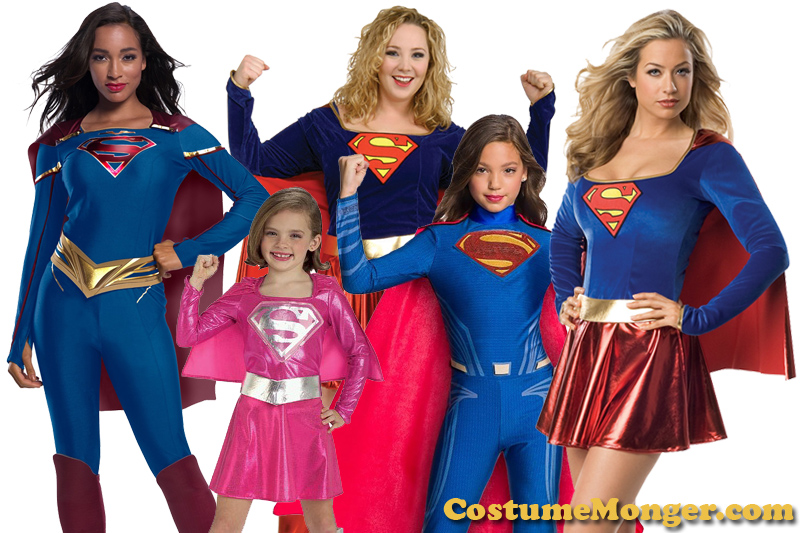 Supergirl returned this year in the movie The Flash. If you are a longtime fan of the super heroine, you will also know that her character also had a successful television series on the CW, for a total of six seasons. To celebrate the success of this character, suit up as DC Comics' favorite super heroine by picking out a Halloween costume this year! This popular television series stars Melissa Benoist as Supergirl and Calista Flockhart aka Cat Grant. Her character is also featured in the new popular cartoon TV series, DC Superhero Girls. Since it's almost Halloween it's a great time to shop for costume inspired by the famous comic book heroine! Thanks to the popularity of this character, you have several costume designs to choose from for Halloween!
Supergirl Halloween Costume Ideas
Adult Supergirl Costume (Flash Movie)

---

Kid's Supergirl Costume (Flash Movie)

---

Adult Supergirl TV Costume

---

Plus Size Supergirl TV Costume

---

Adult Supergirl TV Costume

---

Plus Size Supergirl TV Costume

---

Girls Supergirl TV Costume

---

Child Supergirl Costume

---
For those of you who are not familiar with the comic book superheroine Supergirl, she is Kara Zor-El, the younger cousin of Superman from their home planet Krypton. She managed to find her way to Earth and now fights evil with her superpowers. If you want to dress up as your own superwoman character and be the most stylish heroine in Metropolis, we have found great sale bargains on the newest Supergirl and Super Woman costumes for people of all ages and for full figure plus size adult women too! So anybody can dress up as this comic book superheroine this Halloween.
Child DC Superhero Girls Supergirl Costume

If your child is watching the new animated television series about the girls at Super Hero High, she will probably want to dress up as teen Supergirl who is part of the DC Superhero Girls team. This cute deluxe outfit is inspired by the costume design featured in the cartoon. This costume is discontinued but you can still find them on eBay!

---
Teen Supergirl Costume

Inspired by the DC comics, this teen Supergirl dress features her trademark blue shirt with insignia and attached red cape, flashy red skirt, gold belt and boot tops. Wig and fishnet tights sold separately.

---
Plus Supergirl Costume

This full figure Supergirl costume features an attractive blue and red dress with attached red cape, gold belt, and boot tops.

---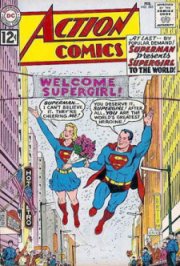 These days Superman aka Clark Kent may get most of the attention from fans in the Superman movie and television series, but you can put the spotlight on Super Girl by dressing up as her at your next superhero or Halloween party. For those who are not familiar with SuperGirl, she is Superman's long-lost cousin named Kara Zor-El who also survived the destruction of Krypton. When she arrived to Earth, she acquired the same superpowers as cousin Kal El (Superman) and she assumed a secret identity Linda Lee and lived with her adoptive parents during the beginning part of her life on Earth.
Her character was introduced in the DC comic books (Action Comics #252) in 1959 and had positive reactions from fans which lead her to bigger roles and even her own comic book series for a brief period. Supergirl even got her own movie adaption in the 1980s starring Helen Slater. And the movie was produced by famous film producer Alexander Salkind who also made the big screen Superman movie adaptions starring Christopher Reeves and Gene Hackman during the late '70s.


Supergirl Season 6 Trailer – The Final Season on CW
Supergirl's Origin in the new CW television show: Kara Danvers was originally known as Kara Zor-El, the cousin of Superman from the planet Krypton. Both she and her cousin (aka Kal-El) escaped from their doom homeworld by spacecraft but arrived on earth at different points of time on Earth because Kara's spaceship became trapped in the Phantom Zone for almost 24 years until she escaped. Kara was still a teenager when she finally arrived on Earth where Superman placed her into the care of a kind foster family the Danvers. The Supergirl television show picks up 11 years later when Kara is 24 years old and coming to terms with her superpowers while defending her new home National City along with familiar characters such as Jimmy Olsen and J'onn J'onzz aka Martian Manhunter.