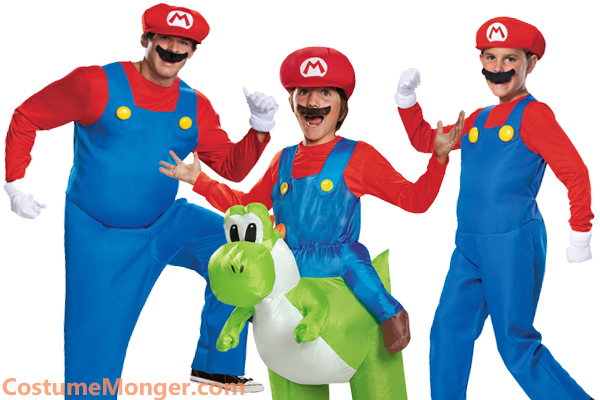 This year Nintendo fans, old and young, made the new animated Super Mario Bros. Movie a blockbuster hit around the world! True to its 3D animated game characters, the spectacular movie follows Mario, the famous Brooklyn plumber turned hero, travel to Princess Peach's Mushroom Kingdom in order to find his lost brother Luigi and help save the kingdom from the wrath of the infamous fire breathing villain Bowser. This Halloween season you have the choice to dress up as one of the many famous Nintendo characters such as Super Mario, Luigi, Princess Peach, Toad, Bowser and other famous characters from the Super Mario World, including his old nemesis Donkey Kong! Like playing Nintendo, no matter how old you are, you still love partying during Halloween. So you have the perfect reason to attend your next Halloween costume party as a Mario Brother character for the night! If you are a gamer, you have many options to choose from. One of the most popular creative outfits to ever grace all video game Halloween costumes is the Super Mario costume. It is undoubtedly a sensational hit not only because of its attractive and hilarious appearance but because everybody instantly knows who you are when you walk into a party dressed up as him! Everyone who played video games loves Mario who has been a character in major Nintendo video games and Donkey Kong arcade games since the 1980s. So if you want your fellow trick or treaters to quickly recognize you during Halloween, you should disguise yourself as a character that has gained worldwide fame and popularity in the world of gamers. Super Mario's character is definitely on top of the chart for gaming fans when looking for fantastic arcade characters to dress up as. Mario will truly turn heads and bring on a smile when you walk into a party. So if you need some Super Mario costume ideas, you should take a look on these new discount bargains on Mario Brothers character costumes.
Super Mario Brothers Costume Ideas for Halloween
Child Deluxe Super Mario Costume

This kid Super Mario Brothers costume for boys from Nintendo features an inflatable belly, red/blue overalls jumpsuit, white gloves, mustache, and hat.

---
Super Mario Brothers Costume

This is the Nintendo video game's Mario costume which includes the red & blue jumpsuit, belly, gloves, mustache, and Mario Bros hat. Also available in plus size for big guys. Click to see size chart.

---
Super Mario Brothers Costume Kit

An affordable costume kit which includes the basic accessories such as a Mario hat, gloves, and mustache so you can create your own Mario Halloween costume.

---
Kids Mario Riding Yoshi Inflatable Costume

This clever Halloween costume includes a child Mario costume with an attached inflatable green Yoshi creature which creates an illusion that your child is riding on Yoshi like a horse. This outfit also includes an electronic fan to maintain the air inflation. Hat and mustache sold separately.

---
If you want a Super Mario mascot costume for birthday parties, conventions, or cosplay, here are some super deluxe Halloween mascot costumes. Why is Mario a brilliant character for your Halloween costume party in the first place? Nintendo Entertainment System created and developed this smash-hit video game into a worldwide sensational, originating from Japan and exploding i North America. Although Nintendo as a company had its own share of ups and downs in the unstable business game industry in the past 30 years, all the hurdles it experienced never extinguished the worldwide popularity and timeless fame of its titular character Mario as well as his sidekick and brother Luigi. Since the brothers have been around for so long, they aren't only familiar with kids. Adults who grew up playing Donkey Kong and Super Mario World will know who this character is.
Therefore, if you want to be nostalgic and walk down memory lane for Halloween, you can't go wrong being Donkey Kong's original nemesis. People who grew up in the Eighties will love seeing a popular character from the past. So if you don't take yourself too seriously and have a great sense of humor, even an adult like yourself can give yourself a once-in-a-lifetime treat bu sporting on the Mario cosplay at your next adult Halloween bash! If you want to go with a friend, you can team up in the Nintendo frenzy by collaborating with your friend to go together as a couple with your matching Mario and Luigi Halloween costumes. Now, what could be a more clever Halloween costume idea than that? If you have a girlfriend or wife, she can dress up as Princess Peach aka Princess Toadstool. In many of his video games such as Super Mario Brothers World and its sequel, Princess Peach was always the damsel in distress whom Mario had to rescue from the evil dragon villain named Browser.
If you are a gamer who has been playing many of the Super Mario games since back in the "old days," then you most likely know who all the Mario Bros characters are such as Toad, Yoshi, Wario, and Walugi. These video game characters are just some of the most memorable personalities that this world has ever had, and for this reason, you want to express your fandom by dressing up as them by shopping for an ensemble inspired by all of them!
There are a number of iconic features and subtle characteristics in Mario through all the years. Most importantly when putting together your own Mario cosplay, you must be aware of the conventional trademarks of this character from head to toe. You essentially have to look into your inner classic-gamer mind and mentally prepare yourself to become Mario. You are that person and out of the virtual world. By choosing the proper costume set up you will surely be the perfect epitome of that virtual Italian hero who always defeats his arch-nemesis, the sinister Bowser, in order to save his beautiful Princess Peach.
So now let's focus on you creating your own Super Mario cosplay or Super Mario mascot costume. First, we must deeply think about what makes a Super Mario outfit work? There are iconic features that specifically creates the Mario look from his plump belly, blue overalls, bright red short sleeve shirt, cool large black mustache, and his red cap. You may think there is not much difference between Mario and Luigi costumes but it depends on which outfit fits your mood, style, and preferences. For Mario fans who don't have time to put together their own Nintendo cosplay, you can shop and purchase several types of costumes, including those made for plus size men who need a Mario costume for big guys. So don't worry, anyone can dress up as their favorite Nintendo hero.
But if you are patient enough to put one together yourself, just remember all the key ingredients needed to make yourself an authentic video game costume. First of all, you need to get his jumpsuit right! In all the versions of the famous Nintendo video game, Mario sports a pair of blue overalls, flashing two big yellow buttons. Under his overalls, he wears a red shirt and under all of this, you need an inflatable belly to boost the plumpness of Mario as he has always been. Then you need a specially tailored, taxi-style red large hat printed with a white letter "M" on the front. This iconic hat tells the world who the famous video game character is when you bring him to life at the party. Most importantly, you can't forget Mario's black mustache and white gloves! The bigger and more exaggerated Mario's mustache is, the better for your costume! All these amazing accessories come together to create the best Super Mario Halloween costume so when you go out you will have an outstanding and momentous occasion to remember when everyone falls in love with your nostalgic game character.
If you are still not motivated to create your own Mario cosplay, you can still purchase high-quality Mario costume packages for all age groups and size variations as shown above. These outfits are normally made of 100% polyester materials and their unique trim gives you an authentically licensed creation and a mark of excellence. Be the best that you can be with these Mario video game costumes and accessories exclusively made for the bold-hearted gamer fans like yourself. Bring a smile to your old friends and colleagues with this classic iconic video game costume from the past.