Do you need help in finding a great Leprechaun costume or a St. Patrick's Day costume? We have listed some great Saint Patrick's Day clothes for men, women, and children. Some of the most popular costumes are the cute and sexy Saint Patrick Day theme dress costumes for adult women. We also have several cute kids costumes listed for the holiday as well.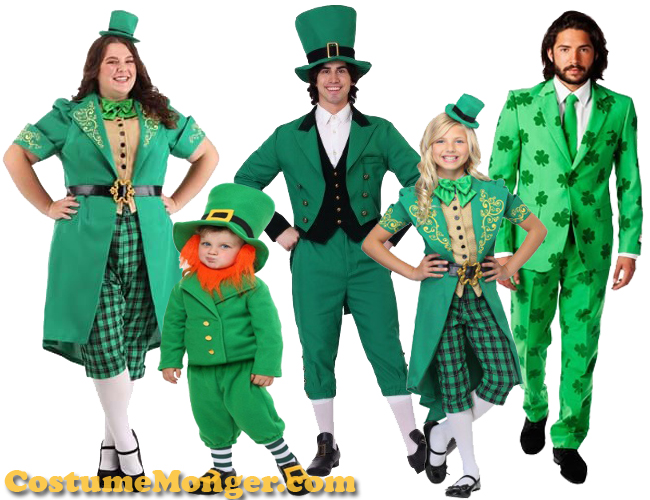 Saint Patrick's Day is an Irish holiday which will be celebrated on March 17th. It's a national holiday for the country of Ireland and a holy day for Roman Catholics. In the United States, the holiday is more widely celebrated "for fun" where people from all walks of life celebrate with parties, parades, and wear green color clothing and costumes. The unusual tradition of pinching among school children for those who forget to wear green on this day also developed in the United States. Common characters are leprechauns which bring good luck to those clever enough to find their pot of gold. If you are getting ready for a party this holiday and need some good St. Patrick's Day costume ideas, check out some of the costumes we recommend.
Green Leprechaun costumes are packed with so much oomph and intriguing green colors that will make you pop out of the crowd on St. Patrick's Day or Halloween! You are probably familiar with the legend of Leprechauns. They are Irish cobbler elves resembling a tiny old Ginger man in red beard and green top hat. Clover leaf, pot of gold, unique looking, clad in all green with a mixture of bad luck and good fortune only lead to one character, the Leprechaun. This Irish folklore inspired the popular costume theme for St. Patrick's Day. The fantastical characters are the protectors of huge pots of gold and will play outrageous tricks and pranks unsuspecting victims to ensure their precious pot of gold is safe. Legends tell us that at the end of a rainbow, you will find these rich treasures of gold coins but some say the pots of gold are hidden in secret buried places away from the earthly clutches of humans. But once you manage to capture this little trickster, the leprechaun will offer you his crock of gold in order to win his freedom!