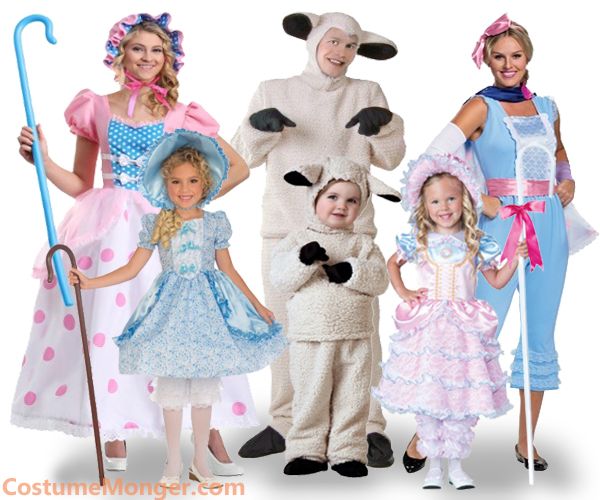 For this Halloween, do you and your child want to capture that sweet traditional storybook character look? Have you thought about a Little Bo Peep costume for Halloween? People from all around the world have grown up reading the Mother Goose Nursery Rhymes and hearing about how Little Bo Peep lost her sheep. If you want a very special storybook character costume this Halloween, consider bringing your favorite nursery rhyme to the real world by getting your own Bo Peep dress. These outfits stem from the Victorian era dresses (around 1837 to 1860.) So its classic design and style is appropriate for most Halloween occasions or any gathering for its distinctive nostalgic style, based on Victorian garb which sometimes appears elaborate in fashion. The famous nursery rhyme character is a great choice for children, teenagers, or adults. Now is your chance when you get one of these costumes.
The Best Little Bo Peep Costume Ideas for Women & Girls
Toy Story's Bo Peep Costume

---

Child's Pink Bo Peep Dress

---

Kid's Little Bo Peep's Pink Poke A Dot Dress

---
A Bo Peep dress costume can be ideal for both young girls and women alike but one funny idea is to have your child dress up as a silly little sheep if he or she is coming to the costume party with you! And if you want to take it a step further, have your significant other or husband dress up as an adult sheep! This would make a hilarious couples costume theme for Halloween and give you a good excuse to boss him around for the night!
Adult Sheep Costume

---

Child Sheep Costume

---
If you watched the popular animated Toy Story movie series from Disney, you will remember one of the movie's popular characters is Bo Peep, a ceramic doll that comes to life with the other toy characters like Woody and Buzz Lightyear! For young girls, there are many options for an improvised Bo Peep Halloween costumes to suit their preferences and style because they can be charming dresses for your little lass to live out their make-believe fantasy. Some outfits have colorful dresses that come along with white petticoats, laced-up corsets with peplum, and short bulbous white sleeves. Also included are chokers and some white bonnets. Your choice of style and color all boils down to your fashion taste.
For the grown-ups, remember that you are dressing up as a character in a children's nursery rhyme. Try to stay away from anything that appears too risque because you should want to keep it light, fun, and family-friendly unless you are going to an adults-only costume party, but remember Little Bo Beep is an innocent young woman so dress the part to make the character come to life. Her outfit includes iconic accessories you can choose from such as aprons, cute petticoats, bonnets, shoes, stockings, and her sheep's staff. The dresses with the corset-styles are perfect to make the whole dress appear a little more attractive. The adult Bo Peep dress costumes sometimes include a pretty gingham halter dress that marks a unique lace-up bodice, with off-the-shoulder sleeves and windswept collar. You can look for matching shepherd's staff with ribbon or a costume set that has all the necessary accessories included.
Indeed, layering the dress with matching embellishments such as a ribboned shepherd's staff and white stockings do make for a pretty lovable ensemble as a shepherdess. This outfit is also ideal for a fun group costume with all your friends representing all the different nursery rhyme characters. The kids will surely love it! If you don't want to go in a big group, going solo is just fine! Dressing the part of an innocent shepherdess in a ruffled skirt with a beautiful petticoat is surely a winner. A Shepherd's staff is also called a crook or hook and that is the one distinguishing accessories the character must have aside from the dress so better not forget about carrying it. If any Halloween guests get unruly, you can use the shepherd's crook to fend off any unwanted attention!
A Little Miss Bo Peep costume will surely enthrall the Halloween guests and make you the center of attention at the Halloween party. Fairytale and nursery rhyme costumes are popular with today's party-goers who appreciate nostalgia attire. You will definitely attract attention to your classic outfit, whether you are wearing one for yourself or for your child. Get the frills and thrills with this dress and have fun on Halloween night!. Bo Peep costumes are actually ideal for any occasion including school plays, masquerade balls, and costume events. Making a costume statement has never been more appealing with an outfit drawn from one of the classic childhood stories.