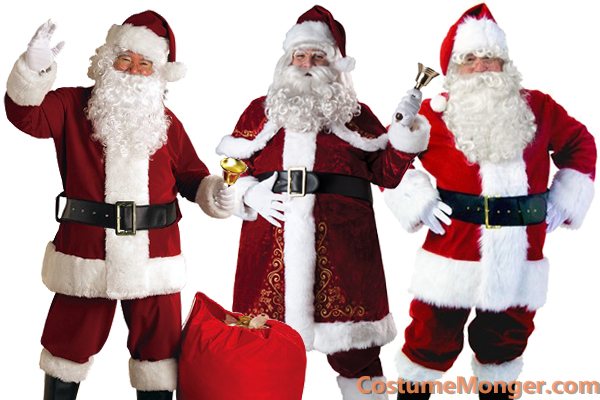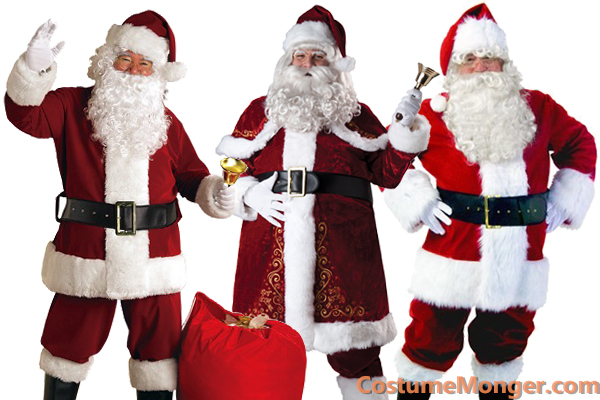 This holiday season have fun with family and friends by wearing a delightful traditional Santa Claus suit. They'll love watching you play Santa with the kids! Let your white beard be the magnet, the center of attention at your next holiday party, and let the old yet jolly Kris Kringle guy be full of fun, spread the spirit of Christmas. Wear your Jolly 'ol St. Nicolas outfit and brighten up that holiday party with lots of seasonal cheer and laughter.
What's a Christmas party without Santa? Dress up in a unique and fashionable Santa outfit and you'll surely be the center of attention at this year's Xmas party. And, with this wonderful costume, you'll be able to show up as the most distinguished guest at any Christmas function or party!
This year be the life of the party and bring a smile to the faces of all of your friends and family with your men's santa suit and all the kids will just adore you!
Did you know that the legend of Santa Claus stems heavily from the stories about the life of Saint Nicholas, the Greek Bishop of Myra. That's why the two names are now used interchangeably. As St. Nicholas Day and Christmas day gets closer and closer, let's take a historical trip back and look at the person behind the legend of Claus.
The real Saint Nicholas was born in the year 270…in Patara …an ancient city in a country that is now called Turkey in western Asia right next to Europe. The man was known as Nicholas of Myra as he lived most of his life in the nearby town of Myra where he is famous for his practice of giving gifts to children and the poor. He gave these gifts in secret which evolved into the custom of gift-giving that formed the basis for the legend of Santa Claus as we now know about him today. In one of the stories involving Saint Nicholas, he drops a bag of gold coins through a chimney for the good prospects of a virgin fell into a stocking she had hung over the embers to dry. Another famous folklore tells the tale of how Saint Nicholas' intervened to stop a crime. This tale was much darker involving a diabolical butcher who chopped up innocent children and put their body parts in barrels to sell off as meat to his customers! Saint Nicholas exposed the butcher's diabolical plan and through his power of prayer resurrected the children, a happy ending to a horrible tale.
Saint Nicholas' heroic acts are remembered and revered not only among Orthodox Christians and Catholics but they are also honored by Anglican and Lutheran churches in Europe. As the heavenly protector of many people of many places, Saint Nicholas is one of the most respected and beloved figures in Christian history. So on Saint Nicholas Day and Christmas Day, remember the vast history of Santa Claus when you wear his iconic suit!
Of course, there are some cynical people who are quick to point out that there is no such thing as Santa Claus. Well, I'm here to tell you that this just is not true and these non-believers really don't know what they're talking about because we are talking about the spirit of Christmas. For centuries, people all over the world have believed that there was a man called St. Nicholas who gave gifts to children during the season of Christmas. Europeans call this man "Father Christmas" and believe that he lives up north in Finland (not the North Pole like Americans). If you want to learn more about Father Christmas, check out this video history on the man.